By: Rpf Gakwerere
Yesterday, 6th July 2022, Criminal Paul Kagame and President Felix Tshisekedi met in Luanda for a tripartite meeting under the mediation of Angolan President, Joao Lourenco.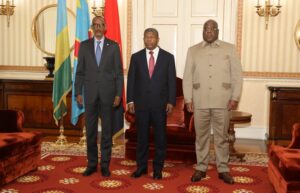 Angolan President Joao Lourenco was appointed by the African Union to mediate talks between Criminal Paul Kagame and President Felix Tshisekedi on insecurity issues engulfing North Kivu, DR Congo. An insecurity caused by incursion and capturing of territories by Criminal Paul Kagame's force of RDF/M23.
This security meeting in Luanda between Criminal Paul Kagame and President Felix Tshisekedi, with  Angolan President João Lourenço acting as a negotiator has been a waste of time as thorny issues weren't discussed. You need to look at different press communique released by Criminal Paul Kagame's office to that released by President Felix Tshisekedi's office. One may think the two communiques are talking about two different summits. Kigali communique didn't mention on the agreement of immediate cessation of hostilities and the retreat of M23 fighters from DR Congo.
However, what amused and shocked regional observers was the acceptance of Dictator Paul Kagame to appear in Luanda to discuss on M23 issues with President Felix Tshisekedi, this was blatant admission that his the commander In Chief of M23, and M23 is an extension of Rwanda Defence Force. And during the summit, Criminal Paul Kagame went ahead to sign a ceasefire and retreat/withdraw agreement on behalf of M23.
This demonstrated how M23 rebel movement is an extension of Rwanda Defence Force, and Criminal Paul Kagame is the Commander In Chief of RDF/M23, thus giving him the mandate to sign a ceasefire agreement on behalf of RDF/M23. As we always say, RDF is M23.
As political circus between Criminal Paul Kagame and President Felix Tshisekedi was taking place in Luanda, Angola, their forces were battling each other in North Kivu.
RDF/M23 forces were fighting FARDC in Kisigari, this is a last FARDC military defence before Rumangabo military Baracks. On another axis, RDF/M23 attacked FARDC defences in Rwanguba, Burayi, Rubare and these are last FARDC defences before one captures Rutshuru Centre. For the past 4 days, RDF/M23 military objectives have been the capture of Rumangabo military Barracks, Rutshuru trading centre, and the eventual control of the whole of Rutshuru.
Capturing and controlling the whole of Rutshuru territory would give Criminal Paul Kagame the world's biggest reserves of pyrochlore. Rutshuru territory also has high reserves of coltan and gold.
———————————————————————————————————–
N.B: you can follow me at – Robert Patrick Fati Gakwerere page (Facebook page), @RGakwerere (tweeter) https://twitter.com/RGakwerere?s=08 or at my blog – rpfgakwerere.org.
However, for those in the enclave – Rwanda, the blog rpfgakwerere.org was blocked by the junta regime, it can't be accessed unless you are using VPN.