By: Rpf Gakwerere
Diane Rwigara ati, "Gukora ibyaha mu Rwanda si ikibazo, ikibazo n'ubivuze!"
Diane Rwigara notes, "Committing crimes in Rwanda isn't a problem, a problem is for those who denounce these crimes."
Below from your left – Anne Rwigara, their father – Mzee Assinapol Rwigara who was brutally assassinated by Criminal Paul Kagame and on your right – Diane Rwigara.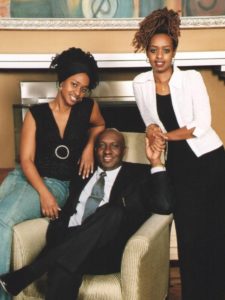 Where do people get the courage to support criminal Paul Kagame? A certified bloodthirsty killer, a killer – an assassin without border, a killer who doesn't even spare childhood friends, a killer who has eliminated former school mates, killed those who supported him, killed military comrades, killed childhood and adulthood friends…etc. A purified serial killer. Everything about him rotates around killing, plundering and sex. An extremely ruthless, nasty and despicable despot.
For example, those who started/founders of real RPF/A are either dead (been eliminated), in exile or sidelined (under controlled movement) and the only person(s) remaining, it's Criminal Paul Kagame and a band of new minions who have no single clue on the birth or ideological principles and goals of real RPF/A, as opposed to criminal Paul Kagame's hijacked RPF/A.
However much someone is selfish, greedy or desperate, Criminal Paul Kagame is the last person someone with sober and functioning brain can support. Yes, after being taken by Criminal Paul Kagame's highly financed Public Relations lies, foreigners or those outside the Greatlakes region can be attracted to his naked lies.
However, for those in the Greatlakes region understand very well that the bloodthirsty killer – assassin is mentally, psychologically, intellectually and morally unfit to lead humans. The bloodthirsty despot is Satan in human flesh.
———————————————————————————————————–
N.B: you can follow me at – Robert Patrick Fati Gakwerere page (Facebook page), @RGakwerere (tweeter) https://twitter.com/RGakwerere?s=08 or at my blog – rpfgakwerere.org.
However, for those in the enclave – Rwanda, the blog rpfgakwerere.org was blocked by the junta regime, it can't be accessed unless you are using VPN.