By: Dr David Himbara
Rwanda's head of state General Paul Kagame was cut down to size by Kenya's new leader, President William Ruto. The term "cut down to size" refers to humiliatingly letting an individual with exaggerated self-importance know that he is not as clever as he thinks he is. President Ruto did so by dispatching to Rwanda his deputy, Rigathi Gachagua, to discuss with Kagame bilateral relations between Kenya and Rwanda.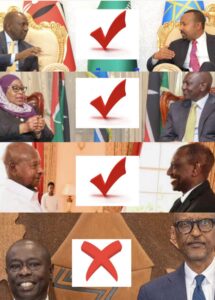 President Ruto treated Ethiopia, Tanzania and Uganda differently from Rwanda. Upon becoming Kenya's head of state, Ruto himself visited Ethiopian Prime Minister Abiy Ahmed, Tanzania's President Samia Suluhu Hassan, and with Ugandan head of state, Yoweri Museveni, to discuss bilateral cooperation and how to deepen economic and strategic ties in the region.
What Ruto is reminding Kagame is this – with a GDP of US$11.9 billion, Rwanda is an economic midget in the region. Ethiopia and Kenya are the region's economic powerhouses with GDP of US$111 billion and US$110 billion, respectively. Tanzania follows with GDP of US$67 billion versus Uganda at US$40 billion. Ethiopia, Tanzania and Uganda are regional economic and trading nations with which Ruto seeks to work as he pursues his agenda of "bottom up" prosperity-creation in Kenya. Ruto is telling Kagame that Rwanda is junior regional player with little to offer. Stay tuned.