By: Rpf Gakwerere
Kenyan troops to be deployed officially in Eastern DR Congo as part of East African Regional Force that will be deployed to fight against armed terror groups. Kenya's military contingent will be handed the flag tomorrow (Wednesday) at Embakasi Garisson in Nairobi. In Mid September, special force from Kenya Defence Forces transported military logistic equipments to Goma, Capital of North Kivu, DR Congo.
This comes at a time when RDF – M23 are engaged in violent fighting against DR Congo army, FARDC.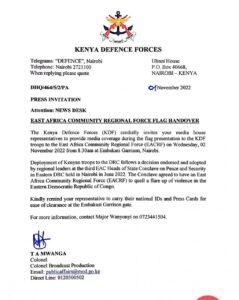 Remember, under the Nairobi accord, Kenya troops alongside those from SADEC, South Africa, Malawi and Tanzania will be operating on counter insurgency operations against RDF – M23, Uganda will continue its counter insurgency operations against ADF terrorists, and Burundian troops are currently conducting counter insurgency operations in South Kivu against Criminal Paul Kagame's Red Tabara rebel movement, a Burundian rebel group that was formed in 2015 – Rwanda, trained in Rwanda, logistically helped to relocate in South Kivu by Criminal Paul Kagame, logistically and morally supported by Dictator Paul Kagame.
Back to my initial out cry, the Greatlakes region will never taste any peace as long as criminal Paul Kagame is still the ruler of Rwanda.