By: Robert Patrick Fati Gakwerere
After USA pressure, RDF-M23 finally agrees to withdraw from the areas it occupies in North Kivu, DR Congo.
In a statement issued on Tuesday, December 06, RDF-M23 affirm that they maintain the ceasefire and they are ready to withdraw, in accordance with the resolutions of Luanda peace accord, taken by region's heads of state at the end of last November, 2022.
"The M23 Movement confirms its maintenance of the ceasefire. With regard to the implementation of the said recommendations, the M23 is ready to initiate disengagement and withdraw, even though it was not represented at the said summit. The M23 supports regional efforts to bring lasting peace to the DRC," said a statement signed by Lawrence Kanyuka, political spokesperson for RDF-M23.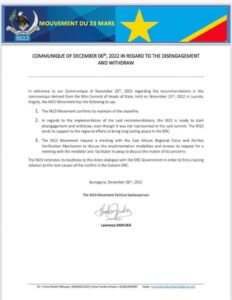 In April 2022, RDF-M23 started a military offensive in DR Congo occupying cities of Bunagana on the border with Uganda and in recent months seizing Rutshuru-centre, Kiwanja and several other localities located on DR Congo's National Road number 2.
Last month, heads of states for the sub-region, meeting in Luanda, Angola, ordered RDF-M23 to cease fire and withdraw from conquered/occupied areas. But the date and time fixed had not been taken into account by RDF-M23. For the first time, RDF-M23 has agreed to disengage and withdraw from occupied areas and this comes after a video conversation between USA's secretary of state Antony John Blinken and Criminal Paul Kagame.
On 5th December 2022, In his twitter, USA's Secretary of state – Antony John Blinken noted, " Had a productive conversation with Rwandan President Paul Kagame to underscore the need for peace and security in eastern DRC. The United States urges Rwanda to honor commitments made in Luanda, including ending Rwanda's support to M23."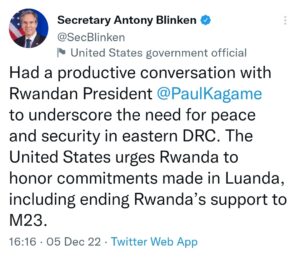 RDF-M23 has been shouting at the top of their voices that they will not withdraw without peace talks between Felix Tshisekedi government and RDF-M23, why a sudden change?
What has RDF-M23 gained in these deaths, human displacements and destruction? Obviously, Criminal Paul Kagame has personally gained through industrial scale plundering of natural resources in Rutshuru and its surroundings.