Robert Patrick Fati Gakwerere
The city of Goma is now isolated from the northern part of the province, in particular from the territories of Rutshuru, Lubero, Beni and the city of Butembo. The Kitsanga-Kirolirwe-Goma road, the only road that remained accessible, has now been occupied since Wednesday January 25 by RDF-M23 troops. As a result, the city of Goma remains completely cut off and asphyxiated.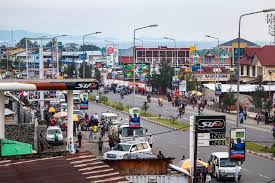 Currently, there is an increase in prices of food products on the markets around Goma city. Goma is no longer supplied with beans, corn and other locally grown products a source told me.
Leaders for the Association of Drivers of Congo (ACCO) in North Kivu deplore the harmful consequences on the social life of the population of Goma. The province's economy is down, they said.
Association of traders in Goma have been calling on the Tshisekedi government to do everything possible to restore peace and security in this region.
It has been more than seven months since the Goma-Kiwanja-Butembo-Beni road traffic has been interrupted since the occupation of Rutshuru territory by criminal Paul Kagame's RDF-M23 troops.