By: Robert Patrick Fati Gakwerere
Since Tuesday, 11th July 2023, RDF-M23 soldiers captured and occupied Bukombo-centre, territory of Rutshuru (North Kivu). In Rubona, Bukombo groupement, RDF-M23 executed more than 13 people accusing them of being FDLR fighters.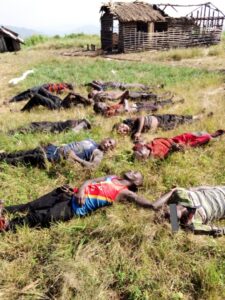 RDF-M23 companies attacked Bukombo from three different entry points, one company came from Mulimbi, passing through Kashavu, another company came from Shonyi and Kavumu, while another company came from Bishusha and Kizimba to attack Bukombo center.
Bukombo was a logistic and operation headquarter of Wazalendo militias who are fighting RDF-M23 in Rutshuru territory. Before this attack, for weeks, RDF-M23 had been reinforcing their positions in Mulimbi, Shonyi and Kizimba with fresh troops from Rwanda.
Week ending 2nd July 2023, 3 RDF battalions that had completed six months of combined arms training at Nasho Basic Military Training Center, in Kirehe district crossed inside DR Congo through Nyiragongo to strengthen both offensive and defensive RDF-M23 positions in North Kivu.