By: Rpf Gakwerere
Since the day he captured power through out manoeuvring his comrades by eliminating one by one; Criminal Paul Kagame has forced oppressed and enslaved Rwandans to address him as hero.
All Rwandans, especially those who know him from childhood know very well how the heartless Dictator has fabricated his achievements and status. He has turned Rwanda into his personal property, he has even assumed God's status, where he has powers and rights on who should live or die in Potato enclave – Rwanda. The killer ruler lives an extravagant lifestyle that is reminiscent of Louis XVI, especially when his oppressed and enslaved subjects are impoverished to the core.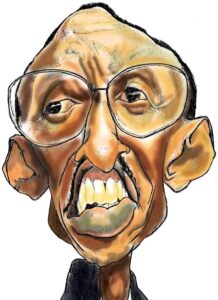 Dictator Paul Kagame's brutality surpasses that of Hitler and his Nazi maroons. Through coercive Public Relations that is overwhelmed with lies, he has sold himself as a visionary and great statesman; but as chairman Mao said, "a thug can never become a statesman by mare wearing of a suit." Due to years of lies, fabrications and his personal incompetences, he is now delusional to the extent that he can't think outside his box.
In future, his crimes should not be put on shoulders of all Tutsis, this killer doesn't belong to Tutsi ethnicity. He belongs to the ethnicity of Killers and génocidaire. In 2007, in a speech at the memorial service to mark the end of the 2nd world war, in a sober tone, Chancellor Angela Dorothea Merkel told the gatherings that "Hitler was not a German, but a man who's ethnicity and origins came from hell." Her statement resonate in Rwanda's contemporary politics.
As the French always say Vérité l'emportera toujours…….Truth always wins.