By: Rpf Gakwerere
All first secretaries in Rwanda's embassies around the world are DMI operatives. They are DMI operatives who excelled in eliminations and proved to military intelligence hierarchy – criminal Paul Kagame that they are ready and willing to spill blood/kill in Kagame's name.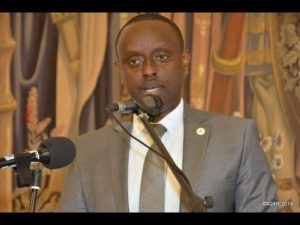 Bellow, it's one of the deadly DMI operative who was posted to Brussels, Belgium as a first secretary at Rwanda's embassy in Belgium. Gustave Ntwaramuheto isn't a diplomat, like all Rwanda's first secretaries posted at their different embassies throughout the world, is a senior DMI operative. His pedigree for ruthlessness and assassination is well known throughout Rwanda especially within the Sopeca community (those born in Rwanda), he was in a surveillance desk to spy on his own, tutsi genocide survivors and those Rwandans born in Rwanda nicknamed as Sopeca.
Gustave Ntwaramuheto attended Intelligence course at Mburabuturo-Gikondo in late 1994. After the course, he was deployed at a DMI centre in Kimihurura. Its here that he was posted to surveillance under the supervision of Major John Mugisha known in RPA/RDF circles as Kanwa.
When political dissidents in Belgium complain about this DMI thug, it's understandable. This is a thug who participated in spying on his fellow Tutsi genocide survivors and Sopecas, fetching hell and deaths to many.
Gustave Ntwaramuheto and his network that he leads, are not only assigned to track and eliminate Rwandan dissidents based in Belgium and Luxembourg. His also the one with the file – responsibility to track and eliminate Uganda's pro democracy activist based in Belgium – Titus Seruga. Titus Seruga is one of DMI's top priority among anti Kagame elements living in Europe.