By: Joyce Uwase
At the beginning of the month, the world saw images of the kidnapping and forcible detainment of Paul Rusesabagina by the Rwandan Investigation Bureau. Little information has been released since his detainment, which leaves supporters and speculators wondering not only about what happened to get him here, but also what is happening and what may transpire in the future.
Rusesabagina's unconstitutional detainment came to his family's shock and horror, who reinforced the notion that he would never intentionally travel to Rwanda out of fear for his safety. Despite this, Rwandan officials say he came to the country of his own free will. Paul Rusesabagina provided a critical human rights service to Rwanda, saving over 1200 people during the 1994 Rwandan Genocide. However, his heroism was not long-lived in Rwanda after the Hollywood hit Hotel Rwanda made his story famous.
Paul Kagame, the current president who came into power shortly after the Genocide, has called Paul Rusesabagina a terrorist because of his outspoken critiques of the government. Rusesabagina was en route to Dubai when he went missing. Days later, the Rwandan Investigation Bureau paraded him in front of the media as a prisoner.
From Dubai To Kigali: A Mystery Still Unravelling
The details regarding how Paul Rusesabagina got from Dubai (his intended destination) to Kigali International Airport are unclear. Still, some eyewitness reports are helping concerned observers around the world fill them in. Reports from some eyewitnesses at the Kigali Airport mention seeing Paul Rusesabagina being loaded off a GainJet Bombardier Challenger 605 on a stretcher, with the tail number SX-FSA. This was a private jet, run by a company called GainJet based out of Athens, Greece.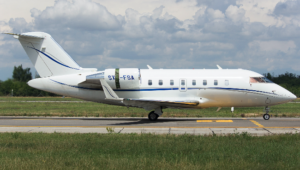 As far as how Paul Rusesabagina was coerced or detained on the plane in the first place, no one can know for sure. That is, no one can know for certain until Paul Rusesabagina can talk privately with his lawyers. Moving Paul Rusesabagina via stretcher might have aided in how he was initially smuggled out of the United Arab Emirates. However, as of yet, the Rwandan hero has had no opportunity for communication with lawyers or loved ones without heavy-handed government surveillance — making it hard for Paul Rusesabagina to talk freely and openly about the experience.
Additionally, there is no current roster of countries that have officially aided in the abduction of Paul Rusesabagina. On August 31st, when the Rwanda Investigation Bureau (RIB) paraded Paul Rusesabagina in front of the media, they indicated that Paul Rusesabagina was arrested in cooperation with several other countries. However, no other country has yet to confirm the story. As a matter of fact, the UAE has even denied their involvement in the unlawful arrest of Paul Rusesabagina. Greece or any other country where GainJet operates may be asked to find out how Paul Rusesabagina ended up in Kigali. GainJet has frequently lent its services to President Paul Kagame.
What Might Happen To Paul Rusesabagina Without Direct Action
The Rwandan Government has a history of detaining outspoken activists, journalists, politicians or anybody who criticizes Paul Kagame's corrupt policies. Unfortunately for the detainees, the government's methods are both calculated and foundational to their cover-up practices. History has shown us that Paul Kagame's regime uses the same tactics over and over again, as is evidenced by seemingly staged photographs of detainees in similar positions when initially being arrested.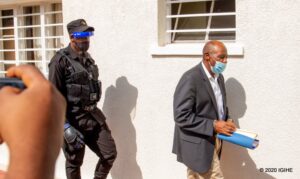 The Hotel Rwanda Paul Rusesabagina Foundation recently pointed out the similarities between the staged arrest photos of Charles Bandora, Léon Mugesera, and Jean Bosco Uwinkindi — all connected to the 1994 incitement of genocide — and the detainment photos of other activists accused of criticizing the government. The intention? To liken the freedom of speech against the government as a crime as severe as incitement of genocide.
A few scenarios could play out in Paul Rusesabagina's case, based upon former circumstances. In the best-case scenario, Paul Rusesabagina might be released (likely citing "medical issues") and free to go. However, with speculation that Paul Rusesabagina might currently be undergoing extensive torture, as can be typical of political prisoners in Rwanda, it's unlikely he will come out of that scenario unscathed — either physically or mentally. The more likely scenario, based on Rwandan history, is that Rusesabagina will be given an unfair trial and sentenced to a lengthy prison sentence.
To stop either of these scenarios from happening, UN-affiliated countries are called to act swiftly and demand the release of the Rwandan hero Paul Rusesabagina. Citizens of allied countries can pressure their officials to negotiate the release, and officials can threaten to back out of aid packages unless demands are met. Until the world starts to notice and pay serious attention to this arrest, the future looks bleak for Paul Rusesabagina.
As for Rwandans, we must ask ourselves — what type of country do we want our children to inhabit? Do we want to pass on a life where criminals and tyrants remain in authority while heroes are villainized? Continuing to overlook miscarriages of justice, like the unconstitutional arrest of a national hero like Paul Rusesabagina, will only contribute to more of the same.