By: Command1post
Rwandan President yesterday met the Rwanda National Defense Forces High Command and staff at the defense headquarters.
According to a senior military officer who attended the meeting, "after a year not seeing him, the man looked sickly, the voice was low and looked tired".
"He told us about salaries, informing us how he knows that salaries needs to be increased"
Kagame also thanked the armed forces for the successful operations in DR Congo where the country maintains battalions of its troops spread across the vast neighbor allegedly to hunt down Rwandan rebels.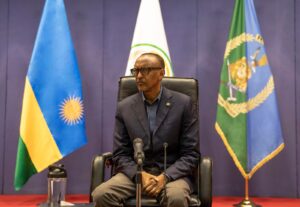 "He talked about regional political situation and reminded us to always be ahead of events".
Kagame further talked about food insecurity that is currently facing the country. According to the National Institute of Statistics of Rwanda, the GDP from April to June 2020 shrank by 12.4 percent compared to the same period last year, with GDP in agriculture, industry, and services dropping by 2, 19, and 16 percent, respectively. In August, the COVID-19 restrictions and slow economic recovery helped drive a 17.4 percent increase in food prices compared to last year.
The Rwandan leader also talked how Rwandan Patriotic Front (RPF) cadres are disappointing him and vowed that if they continue he will appoint military personnel to run the failing government parastatal.