By: Rpf Gakwerere
The Chief of Staff Land Forces Maj Gen Leopold Kyanda has said that the killers of Joshua Nteireho Ruhegyera have for some time been trying to disturb "our peace." He, however, said they are joking and they should stop the ill motives for their own good.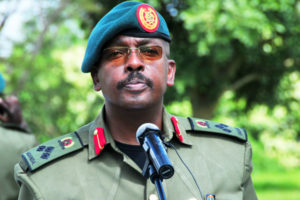 "Those who want to joke with the peace should first calculate the years, the President [Yoweri Museveni] has been fighting for it. Know the effort, the focus, and plan, and then you bring the joking. Those joking with peace should stop it for their own good," he said at the burial of Joshua Nteireho who was gunned down together with a female friend – Merinah Tumukunde Rugyenza.
We shall fully understand them, know what they are after; they have been killing people, they have been trying to disturb our peace but they are joking. You see [President] Museveni brought peace; he didn't start yesterday, he sacrificed for a long time."
Gen Kyanda was on Sunday speaking at Nteyireho's burial in Kayanga, Kazo District. He said investigations into the murder are 70 percent done.