By: Rpf Gakwerere
Potato enclave's deranged dictator has just reinstated Jean Marie Vianney Gatabazi as governor of Northern Province.
On Monday, 26th May 2020, potato enclave's deranged dictator removed Jean Marie Vianney Gatabazi from his post as the governor of the Northern province, on accountability/embezzlement case.
On 26th June 20, during an RPF executive committee meeting which was held at RPF headquarter in Rusororo, dictator Paul Kagame humiliated Gen Emmanuel Gasana, Clever Gatete and Jean Marie Vianney Gatabazi, referring to them as incompetent corrupt officials. And ten days later, the dictator has reinstated Jean Marie Vianney Gatabazi as the governor of Northern Province after humiliating him in front of ruling party cadres.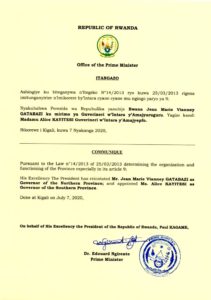 Jean Marie Vianney Gatabazi is a well known goon within the satanic regime. He has raised through the ranks of RPF, the ruling party by singing and praising criminal Paul Kagame 24/7. Within the hierarchy of Rwanda Patriotic Front, he is known as "Umukiga wa Kagame," Kagame's mukiga.
In 2000, Jean Marie Vianney Gatabazi was recruited to the ruling party, Rwanda Patriotic Front by death merchant Maj Gen Jack Nziza who was then a Lt Colonel, and head of the Directorate of Military Intelligence (DMI). He first operated as Jack Nziza's informant within the Hutu community.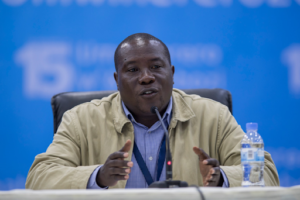 After an excellent job of spying his community without sparing his own relatives, an impressed Maj Gen Jack Nziza forwarded Jean Marie Vianney Gatabazi's names to RPF Secretariat for a seat as a Member of Parliament. All oppressed and enslaved Rwandans know that members of Rwanda's Parliament and senate are directly appointed by RPF secretariat through the approval of criminal Paul Kagame.
In 2003, with recommendation of Jack Nziza, intelligence informer, Jean Marie Vianney Gatabazi was appointed an RPF Member of Parliament, a position he served until 2017 when criminal Paul Kagame appointed him the governor of the northern province. While in Parliament, oppressed and enslaved Rwandans still remember of his dramas, he always refers a bloodthirsty dictator – criminal Paul Kagame as "Jesus's twin." While in Parliament he once told oppressed and enslaved Rwandans that, "no one in the country has the capacity, potential or knowledge to lead the country like Kagame. President Kagame is the best gift that God has ever given to Rwanda."
It is through his sycophantic dramas that he caught the eye of criminal Paul Kagame. And today, criminal Paul Kagame, a narcissistic character who loves praises has recalled back his inept minion after more than a month in the cold.
Jean Marie Vianney Gatabazi was dismissed from being a governor of northern province on 26th May 20, and he has been reinstated on 7th July 20. Criminal Paul Kagame operates like a medieval king, he appoints whenever he wants, dismisses anyone under any pretexts, re-appoints you, humiliates, incarcerates or kills you whenever his tired of you.
Corporal is merely a messenger of criminal Paul Kagame's polical, economic, social and military madness.
Stay tuned