By: Rpf Gakwerere
Denise Nyakeru Tshisekedi, wife to president Felix Tshisekedi has arrived in Rwanda for two days working visit.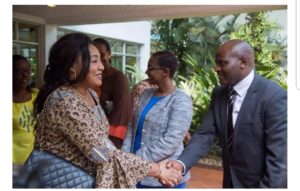 Denise Nyakeru Tshisekedi is a fluent Kinyarwanda/kish speaker, born in Bukavu town – South Kivu. Denise Nyakeru Tshisekedi is an intelligent woman who passed her A levels with distinctions securing a University place at DR Congo's top university, universite de kinshasa ( UNIKIN).
Since becoming the first lady, making Rwanda to be her first working engagement outside DR Congo sends alot of signals and message in the region. This trip, with other various trips between Kigali and Kinshasa, since Felix TSHISEKEDI became a president in January 2019, shows how criminal Paul Kagame has penetrated the presidency in Kinshasa.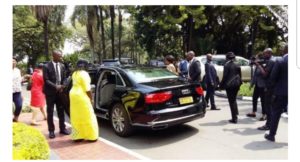 Last year, during elections in DR Congo, Marie Olive Lembe, president Joseph Kabila's wife who Congolese used to refer as Rwandan Tutsi despite not having a single drop of Rwandan blood/DNA from both parents or grandparents, noted, "You Congolese, with time you will understand that Rwandans are full in opposition and most of these opposition people have Rwandan concubines. But you waste your time on me, Oliver, a true daughter of the soil."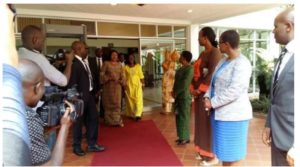 In all her husband's reign, Marie Olive Lembe went only once in Rwanda, when she had accompanied the husband for a three day state visit. For Denise Nyakeru's first sole visit as first lady, Kigali became her first choice.
Last year – 2018, I reminded a Congolese friend that Joseph Kabila last stepped a foot in Rwanda in 2012 before the M23 rebellion. From 2012, the then DR Congo president started snubbing, ignoring and avoiding criminal Paul Kagame including all envoys that he sent to DR Congo.
In 2015, president Joseph Kabila refused to support criminal Paul Kagame's coup d'etat adventure in Burundi which miserably failed, and at the end of 2016, president Joseph Kabila allowed Burundi's special forces to enter DR Congo to track and combat anti Peter Nkirunziza rebel groups that had established bases in South Kivu.
Obviously gullibles and peddlers of lies used to connect President Joseph Kabila to criminal Paul Kagame, a relationship which deteriorated since the formation of CNDP of Laurent Nkunda. But now, we are seeing true sons of criminal Paul Kagame in Kinshasa.
Since January 2019, when Felix TSHISEKEDI was sworn in as President of DR Congo. The head of Rwanda's external intelligence – Col Anaclet Kalibata and his team of DMI operatives have visited the DR Congo 7 times, The foreign minister – Richard Sezibera 2 times, the army commander (CDS/F) – Gen Patrick Nyamvumba and head of special forces – Innocent Kabandana visited once and Gen James Kabarebe has made one clandestine visit.
Felix TSHISEKEDI awarded Rwandairways what President Joseph Kabila had refused, exclusive rights to operate inside the whole of DR Congo. Remember, DR Congo has the size of western Europe.
Criminal Paul Kagame/DMI = Felix TSHISEKEDI/Catalogue Kamerhe.