By: Rpf Gakwerere
The potato enclave's brutal dictator is in Doha, Qatar, making his 52nd foreign trip of the year, 2019. The brutal dictator is the modern Vasco da Gama, Christopher Columbus and Marco Polo combined in one.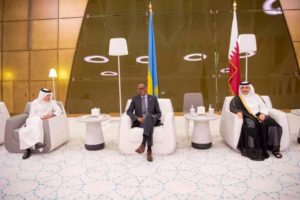 Doha, Qatar, is also a business hub for criminal Paul Kagame and his family. They own properties in Doha which houses various foreign migrants that flock the petroleum rich Arab nation. Through his nephew Hatari Sekoko, criminal Paul Kagame has bought various properties in Doha and Dubai, Qatar and UAE respectively. And these properties are rent out.
Doha, Qatar is also one of criminal Paul Kagame's hub for money laundering. The financial institutions in Qatar and UAE are less regulated, thus allowing the mafia king of the potato enclave to launder embezzled and plundered wealth within these respective Arab states.
For years, cities of Doha and Dubai have also been criminal Paul Kagame's hub for illegal minerals plundered from DR Congo. These two cities have a great attraction for precious minerals like gold and diamond outside western Europe; and their lesser restrictions in regard to blood minerals allows the potato enclave's brutal dictator to smuggle illegal minerals from DR Congo to these Arab states under bogus caveat, i.e made in Rwanda.
To oppressed and enslaved Rwandans, what will your potato enclave gain by your criminal king spending your taxes in order to attend a conference and exhibition on Information and Technology?
Obviously, the brutal dictator must have travelled with the YooYoo that he has been banging of recently – the ICT minister. It's an open secret and everyone within the satanic system knows how the brutal dictator has always banged those sycophantic YooYoos around him, mostly married women in the clear knowledge of their husbands. Trust, post dictator Paul Kagame will reveal lots.
—————————————————————————————————
N.B: you can follow me at – Robert Patrick Fati Gakwerere page (Facebook page), @RGakwerere (tweeter) or at my blog – rpfgakwerere.org.
However, for those in the enclave – Rwanda, the blog rpfgakwerere.org was blocked by the junta regime, it can't be accessed unless you are using a VPN.