By: Rpf Gakwerere
The year was February 1988, a beautiful Saturday evening, as usual, young NRA officers were flocking to Kabalagala and Kansanga to enjoy their weekend. Remember, these were military officers in their early 20s and they had all the rights to enjoy life.
Among the NRA officers that used to flock to Kabalaga and Kansanga was Captain Paul Kagame. For those who don't know, criminal Paul Kagame was promoted to a Major in May 1988. Despite being among the original 27 fighters that attacked Kabamba barracks on Feb 6, 1981; after the NRA liberation war, he was rewarded the rank of a captain.
Throughout the NRA liberation struggle, criminal Paul Kagame's role was that of screening new recruits and interrogation. The nickname of Pilato given to him by fellow fighters will be a topic of another day. The criminal outlaw has seen no single combat or led any single military operation. His career has been that of intelligence (mbega/maneko/jasusi).
Back to this Saturday, February 1988, Captain Paul Kagame would always flock Kabalagala and kansanga to spy his fellow soldiers, and report them to President Museveni. Despite being a Captain, even senior military officers totally feared him. When senior officers would enter a bar/pub and find him, they would immediately walk out. And if criminal Paul Kagame entered a bar and his fellow soldiers are already seated enjoying their drinks, they would stand and walk out leaving their drinks behind. The NRA officers would note, "kawunya ayingidee or Kahunya jyaali."
But on this Saturday, February 1988, Captain Paul Kagame received his own medicine. In this Kabalagala pub, Captain Vedaste Kayitare, fresh from North Eastern Uganda to fight insurgency was enjoying his drink alongside other NRA officers. Then, Captain Vedaste Kayitare was an ADC to Maj General Fred Rwigema.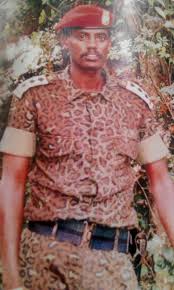 As the NRA officers were enjoying their drinks and music, Captain Paul Kagame referred by NRA officers as Kahunya entered the bar/pub. This time around, Captain Vedaste Kayitare asked the senior officers present, "why always run away because of Pilato? Lets discipline this rumourmonger fool." Captain Vedaste Kayitare who was brown belt in Karate looked at senior officers around and asked them, "Mutoweni order."
In the bar, there was Col Patrick Lumumba, like Captain Vedaste Kayitare, he had just arrived from fighting insurgency in Northern Uganda. There was Lt Col Akanga Byaruhanga, Col Stanley Muhangi, Lt Col Napoleon Rutambika, Captain Jet Mwebaze…. These senior officers gave orders to Captain Vedaste Kayitare to throw Captain Paul Kagame out.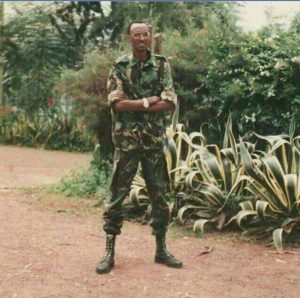 Captain Vedaste Kayitare walked to a corner were Captain Paul Kagame was nearly seating and ordered him to leave the venue because it was a private party and he wasn't invited. Before Captain Paul Kagame would say anything, Captain Vedaste Kayitare pulled criminal Paul Kagame out and when he tried to resist, he was given some slaps and pulled out, up to his white 404 Peugeot car and ordered to leave. On this Saturday night, Captain Vedaste Kayitare was given free drinks courtesy of joyful and liberated youthful military officers.
Captain Paul Kagame used to drive his private 404 Peugeot around different Kampala night spots to spy on his fellow soldiers and get what to tell president Museveni. After being humiliated by Captain Vedaste Kayitare, rumourmongering captain Paul Kagame started using agents to collect information on fellow soldiers.
This was the second time Captain Vedaste Kayitare had confronted Captain Paul Kagame. In 1987, the two men confronted each other over soldiers Captain Paul Kagame had imprisoned yet they were supposed to be deployed in northern Uganda to fight insurgency. (A topic for another day)
Four years along the lane, in 1992, Criminal Paul Kagame who doesn't forget or forgive brutally eliminated Captain Vedaste Kayitare who by the time of his assassination had become a Colonel.
—————————————————————————————————————————
N.B: you can follow me at – Robert Patrick Fati Gakwerere page (Facebook page), @RGakwerere (tweeter) or at my blog – rpfgakwerere.org.
However, for those in the enclave – Rwanda, the blog rpfgakwerere.org was blocked by the junta regime, it can't be accessed unless you are using VPN.