By: Rpf Gakwerere
J3 of treacherous assassin Gen James Kabarebe is clandestinely planting division within the RDF, trying to divide Burundian/Congo born military personnel Vs Uganda born military personnel.
J3 mafia network is cleverly disseminating divisionism information meant rip apart criminal Paul Kagame's personalised militia army – RDF. Since when criminal Paul Kagame decided to sideline member of J3 mafia network, J3 military operatives didn't seat and keep quiet, they are always trying to undermine their successors. J3 has deadly and experienced military operatives with capabilities to cause danage within the satanic regime ruling the enclave.
In the past, J3 of treacherous assassin Gen James Kabarebe played part in dividing RDF military personnel from Uganda, creating a divisive tag of Tooro/Bunyoro boys vs Nakivale/Nshungerezi boys.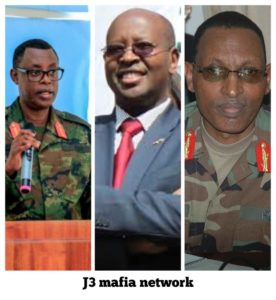 While criminal Paul Kagame is obsessed with external threats, the real threat is within his dying satanic regime. Criminal Paul Kagame is eliminating innocent people on daily basis in the hope of saving his satanic regime, yet the real threat manoeuvring for his head is within his satanic regime and system.
For those who don't know, in Rwanda's security circles, J3 is an acronym of James Kabarebe, Jack Nziza and James Musoni alliance; and Jeannette  Kagame Gasana is an axis of this mafia network. This is an alliance made out of hell. I hope readers will not confuse G3 which is military acronym for training, operational requirements, combat development & tactical doctrine. J3 is a mafia system within the grand satanic system.
Just watch how J3 mafia network says bye bye to criminal Paul Kagame.