By: Rpf Gakwerere
For those who know or have followed closely criminal Paul Kagame's bloodthirsty political career in Rwanda, will attest at how criminal Paul Kagame only smiles under 2 key factors.
1) When committing human rights atrocities. The best moments for the ruler of the potato enclave (Rwanda), it's when his taking lives of innocent people.
2) When plundering DR Congo minerals or Rwanda's meagre resources. The criminal ruler will always smile when his making illegal money acquiring deals like trading in illegal mineral resources from DR Congo, plundering the economy of the potato enclave (Rwanda) or conning different actors.
In the photo below, taken on 8 December 19, in Kigali, criminal Paul Kagame is showing his dental formula while holding the hands of DR Congo's accidental president – Félix Tshisekedi. Thanks to accident President Félix Tshisekedi, criminal Paul Kagame is currently making millions of dollars through minerals acquired from DR Congo, especially when you consider that his forces control three provinces in eastern DR Congo.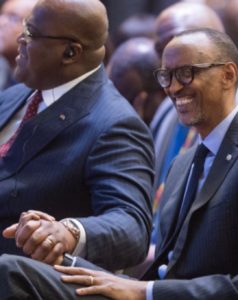 We have to remember that criminal Paul Kagame invaded, occupied, looted, and killed millions in DR Congo since 1996 to present day. UN DRC Mapping human rights violations 1993–2003 Report was the most extensive investigation of the horrors unleashed by Kagame in DR Congo.
Let me ask, what is in Félix Tshisekedi's brain?