By: Rpf Gakwerere
Today morning, Friday,14th February 2020, the potato enclave's real Prime Minister – ruthless Ines Mpambara (criminal Paul Kagame's director of the president's office) telephoned the artificial Prime Minister Edouard Ngirente to tell the minister of health Diana Gashumba to tender her resignation letter by the end of the day.
The real Prime Minister – Ines Mpambara informed the artificial Prime Minister Eduard Ngirente that DR Diane Gashumba is being sacked as health minister due to habitual gross errors and repeated leadership failures.
While Kigali dwellers were enjoying valentine day, Dr Diane Gashumba was drafting a resignation letter, as she had become an excess within the satanic regime.
On 4th February 20, while inaugurating a cancer centre in Kigali, in his speech, criminal Paul Kagame spent minutes attacking the health ministry especially its management. For those who know the workings of the evil regime, this was a day when Dr Diane Gashumba's days as minister of health was sealed. And less than two weeks down the lane, Dr Diane Gashumba has been pushed out from her ministerial job.
On 11th February 20, I posted how nurses in government hospitals haven't been paid their January 2020 salaries and remunerations. The health sector has been failing for years not because of ministry's management style but due to embezzlement of this ministry by Criminal Paul Kagame and his estranged wife – Jeannette Gasana Kagame.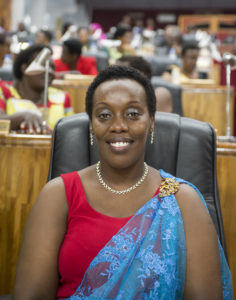 For years, this ministry has been a channel of embezzlement by the Kagames. Budgets allocated to this ministry have always been diverted by the Kagames to their offshore bank accounts. Everyone within the satanic regime which rules the enclave (Rwanda) knows that the ministry of health, Defence, agriculture and education are criminal Paul Kagame's embezzlement centres.
However, the deluded criminal ruler assumes his goons and minions will perform miracles with zero budget.
On 6th February 2020, Minister of State in charge of Primary and Secondary Education, Isaac Munyakazi and Minister of State in charge of Constitutional & Legal Affairs, Evode Uwizeyimana submitted their resignation letters after being pushed out; respectively, under corruption and misconduct charges.
Now, cabinet reshuffle is imminent. Remember, in the satanic regime there are two cabinets, the formal cabinet (government presented to oppressed and enslaved citizens) and the informal cabinet (kitchen government which yields real power).
OPPRESSED, ENSLAVED, STARVING AND UNEMPLOYED RWANDANS, DON'T FORGET, DR DIANE GASHUMBA IS MZEE FRANCOIS NGARAMBE'S SIDE DISH. FOR THOSE WHO DON'T KNOW FRANCOIS NGARAMBE, HE IS THE SECRETARY GENERAL OF THE RULING PARTY – RPF, AN OLD MAN WHO SOLD HIS SOUL AND HEART TO POTATO ENCLAVE'S CHIEF LUCIFER.
—————————————————————————————————————————
N.B: you can follow me at – Robert Patrick Fati Gakwerere page (Facebook page), @RGakwerere (tweeter) or at my blog – rpfgakwerere.org.
However, for those in the enclave – Rwanda, the blog rpfgakwerere.org was blocked by the junta regime, it can't be accessed unless you are using VPN.