By: Spyreports Ug
A section of Ugandan legislators have received funds to support the opposition's campaign against Uganda security agencies and its leadership a head of the next general elections 2021.
Top on target is security minister Gen Elly Tumwine; internal security Organization (ISO) chief Rtd Col Kaka Bagyenda and military spy chief Brig Abel Kandiho.
The three individuals continue to prominently feature in propaganda sites and anti-Kampala social media trolls whose sponsors are also the source of the funding for these Ugandan members of parliament.
The legislators who received funds include Hon Latiff Ssebaggala,Hon Muwanga Kivumbi, Kasiano Wadiri, Gaffa Mbwatekamwa, Moses Kasibante among others.
The money was delivered to these MPs through Hon Latiff Ssebaggala at hotel located between Mulago hospital Kawempe and Riham beverages factory along Bombo road in Kawempe.
Since Gen Tumwine assumed office in 2018 and started a crackdown on organized foreign and local criminals who were causing havoc in Uganda including carrying out assassinations, forex bureau robberies, bullion van hijackings, refugee kidnapping, hacking of banking institutions, burning markets among others, their sponsor who is a neigbouring country has been trying to remove him from office together with other heads of security through blackmail, propaganda and sponsoring fake criminals to give fake testimonies against him through the media to claim torture.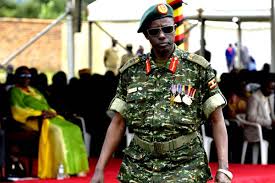 With multimillion funding, the funders have been trying to procure key vocal opposition legislators to lead the campaign and aid anti- Tumwine groups with their campaigns and strategies against the government and security forces.
Despite multiple attempts, including fronting former criminals and ex-convicts like notorious Ronald Africa Gabula to appear before parliament and cry before arranged cameras in 2019 for propaganda videos to pin security, their efforts have been in vain. Security forces have continued to remain steady fast in ensuring that Ugandans are protected from both foreign and local sponsored criminals' hell bent on causing anarchy and lawlessness in the country.
Nonetheless, this neigbouring continues to seek new mechanisms to achieve its eternal objective of recovering control over Uganda's strategic security and intelligence agencies where it would be easy for them to come kill and go back without being questioned just like in the past where rogue security officers were in bed with this country.
One of this country's principal tactics has been feeding the internal conflict in Uganda through the consolidation of an opposition members and a section of journalists and carrying out targeted killings in the country and later blaming it on government.
THE MONEY
This country has channeled millions to anti-Uganda security groups in Kampala since 2016. A majority of those substantial funds have been used to run opposition candidates' campaigns, as well as finance those well-crafted media campaigns against the security forces and officials that flood the local and neigbouring country's press.
Despite the failure to cause any impact, the funds to these opposition legislators continue to flow.
This country which is renowned for spending fortunes on destabilization of neighbors using taxpayer and foreign aid dollars on efforts to cause regime changes instead of investing in its health and well-being of its people who are known to be living misery and suffering from hunger.
THE EMBASSY
This country's Embassy in Kampala has been the center of distribution and coordination of the majority of these anti-Uganda campaign operations.
These multimillion-dollar funds are destined to the Ugandan opposition in 2021 leave no doubt that this neigbouring country will continue its plans to interfere in Uganda internal politics, while trying – by any means – to impede the future of the country. At the same time, these millions reinforce the decade-old belief that Ugandan opposition remains agents of foreign agents but will always meet stiff resistance from patriotic Ugandan security forces.