By: Rpf Gakwerere
Below are my Facebook posts on the pending reshuffle within the satanic regime.
1) https://www.facebook.com/100997881256335/posts/205057147517074/?d=n
2) https://www.facebook.com/100997881256335/posts/203316217691167/?d=n
Since 2009, Ines Mpambara has been criminal Paul Kagame's chief of staff (Director of Cabinet in Charge of the president's office). As chief of staff, Mpambara was not only charged with running the Presidency but the nation as well, she has been the real prime minister and criminal Paul Kagame's right hand woman. Today, she has been appointed as a Minister in charge of Cabinet Affairs, the Prime Ministerial powers have been cemented by her boy friend, Criminal Paul Kagame.
Through her rise to power, she has destroyed careers of innocent citizens without sparing criminal Paul Kagame's house boy Generals. She is the master of intrigue, nasty managerial operator and an office assassin who lacks any single respect, ethics or love for compatriots. She is as horrible as her boss and boy friend – criminal Paul Kagame, reasons she has managed to survive for long.
By creating a new cabinet post for his side dish, a cabinet post which will have roles similar to those of the artificial prime minister – Eduard Ngirente, criminal Paul Kagame has now indirectly presented his side dish as the real Prime minister. Now, Mpambara Ines, is Minister in charge of Cabinet Affairs.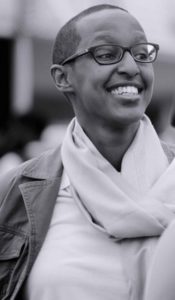 Apart from real Prime Minister Ines Mpambara, criminal Paul Kagame appointed the following:
Dr Ngamije Daniel, Minister of health
Dr Uwamariya Valentine, Minister of Education
Dr Bayisenge Jeannette, Minister of Gender and Family Promotion
Madamu Kayisire Marie Solange, Minister in Charge of Emergency Management
Lt Col Dr Mpunga Tharcisse, Minister of State in the Ministry of Health in charge of Primary Healthcare
Twagirayezu Gaspard,
Minister of State in the Ministry of Education in Charge of Primary and Secondary Education
Irere Claudette, Minister of State in the Ministry of Education in Charge of ICT and TVET Education
Other Appointment
Rugira Amandin, moved from Belgium Ambassadorial post to Rwanda's ambassador to Zambia,
Dr Sebashongore Dieudonne,
Ambassador of Rwanda to Belgium
Rugemanshuro Regis, Director General of Rwanda Social Security Board (RSSB)
Dr Ndimubanzi Patrick, Executive Secretary of Rwanda Medical Council
Mutimura Eugene: Head of Science & Technology Commission.
Gacandaga Jean-Marie: Deputy Director in charge of Fund Management in RSSB Rwanda
Iradukunda Yves, Permanent Secretary in the Ministry of ICT and Innovation
FOR GOONS AND MINIONS WHO HOPED TO ENTER THE SATANIC REGIME (FORMAL GOVERNMENT) KEEP ON WAIT FOR YOUR TURN.