By: Rpf Gakwerere
DR Congo's political elites are pure jokes and mentally senile. Criminal Paul Kagame and his mafia cohorts enter their country and mercilessly plunder the country. Then tomorrow, the brutal dictator of the potato enclave (Rwanda) comes back to corrupt these Congolese political elites with money from minerals racketeered from their own country. This circle started in 1996 up to now.
Potato enclave (Rwanda) now boasts of being the highest exporter of coltan, gold, cobalt, diamonds and timber; thanks to plundering DR Congo at the expense of impoverished citizens of DR Congo.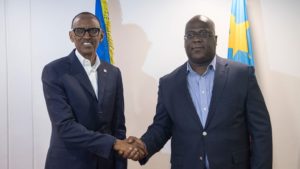 All mineral mafias in DR Congo look to Kigali as a place to sell their mineral consignment. Criminal Paul Kagame, his estranged wife Jeannette Gasana Kagame, treacherous assassin James Kabarebe and other senior military criminals, especially in the intelligence services have mafia networks in DR Congo's underground operations of plundering, smuggling and racketeering of its natural resources.
Why can't Criminal Paul Kagame and his mafia cohorts follow proper channels in trying to find ways to trade with DR Congo? This would benefit the population of both countries.
————————————————————————————————————
N.B: you can follow me at – Robert Patrick Fati Gakwerere page (Facebook page), @RGakwerere (tweeter) or at my blog – rpfgakwerere.org.
However, for those in the enclave – Rwanda, the blog rpfgakwerere.org was blocked by the junta regime, it can't be accessed unless you are using VPN.