By: Rpf Gakwerere
Earlier today, at Katuna border point, Rwanda's satanic authority handed over the body of a Ugandan businessman who was executed on Monday, 1st June 20, last week.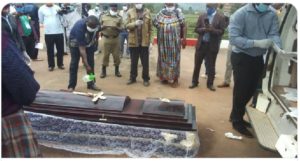 The deceased identified as Sydney Muhereza aged 35, a resident of Kagogo village in Bigaaga parish, Butanda Sub County, Kabale district was executed by Rwanda's security officers on Monday last week at around 7:00PM. Mr Sydney Muhereza has been the seventh Ugandan to be executed in a similar manner since Criminal Paul Kagame ordered the closure of Rwanda – Uganda border in March 2019.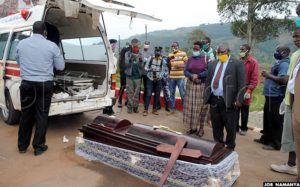 Criminal Paul Kagame's security services had thousand ways to arrest – apprehend this innocent Ugandan, but went for what they know best, a kill. Paul Kagame runs security services than operate on a motto of "kill first and ask later."
Muhereza was gunned down in Sebeya village, Rwerere Parish, Burera district in Rwanda, about five kilometers from the Uganda-Rwanda borderline.