By: Rpf Gakwerere
In the picture below, the late Brig Noble Mayombo who died on 1 May 2007 after being assassinated through poison by a Rwandan female assassin attached to Rwanda's bloodthirsty Directorate of Military Intelligence. On Saturday, 5th May 2007, at his burial in Kijura, Kabarole district, President Museveni noted, "my cadres are being killed by mafia elements in the region." He avoided to mention those mafia elements in the region.
It's an open secret in Uganda's security services that Brig Gen Noble Mayombo was eliminated by Potato enclave's (Rwanda) DMI, on direct orders of criminal Paul Kagame (a topic for another day).
In the picture below, there is Lt. Col Hanny Kakura who passed away early this week on the 24 March 2020. Lt Col Hanny Kakura joined the NRA in late 1984, spending 35 years in the army. Lt Col Hanny Kakura was a pure gentleman, patriotic to his country, a great cadre and friendly to everyone. May his soul rest in peace.
In the photo, there is Lt. Gen James Mugira the current Managing Director of National Enterprise Corporation.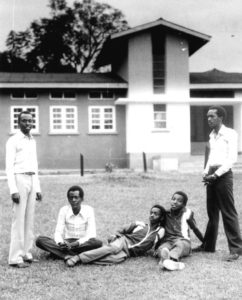 The picture was taken in 1978 at Ntare school, when they were students at this historical secondary school.