By: Rpf Gakwerere
Notorious assassin Brigadier Dan Munyuza bemoaning to his field operatives: "I have to produce results to his excellency. His excellency is pressuring me for results, and questioning my operation expenditures without any result to show. For the past months I have lost contact with well trained operatives that I sent to Uganda. These deployments were classified with few handlers. They were surveillance and tracking operatives with special force skills."
Notorious assassin Brigadier Gen Dan Munyuza continues, "This team entered Uganda through Kenya and their handlers are deployed in Kenya. Those Bayayi in Kampala have deployed heavily in Bunagana border crossing. And they have been suspicious of DR Congo travel documents that we have been providing to our boys to cross Bunagana border."
"His excellency thinks there are double agents within our ranks, especially within the Uganda desk that is passing information to those Bayayi in Kampala. For the past one year, I have been restructuring Uganda desk, bringing in people with less connection to Uganda, but information keeps leaking and agents keep being stopped before completing their operations," Notorious assassin Brig Gen Dan Munyuza notes.
"I am in pressure from all sides, on one side, his excellency is on my back, on the other side, these boys from Bujumbura want my position in order to consolidate their power, and they have the support of Jeannette Kagame. Brothers, you know she has always hated me," Notorious assassin Brig Gen Dan Munyuza laments.
For those who don't know, Brig Gen Dan Munyuza is the brutal-ruthless semi-literate IGP of the potato enclave (Rwanda) and currently the head of Uganda desk. Criminal Paul Kagame is pressuring his security attack dog to produce results, for criminal Paul Kagame satisfactory results are blood and deaths.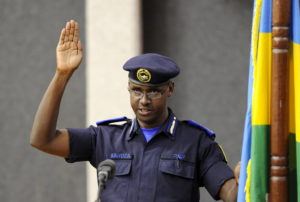 With enormous pressure, Dictator Paul Kagame's Kadeyideyi – Brig Gen Dan Munyuza is looking for a quick kill in order to impress his criminal minded boss.The notorious Kadeyideyi assassin wants a quick elimination in Uganda in order to demonstrate to his boss that his better than treacherous assassin Gen James Kabarebe, whom he succeeded as head of Uganda desk.
Uganda's intelligence desk is enormously funded, and criminal Paul Kagame expects results. And to criminal Paul Kagame, results are measured in terms of assassinations.
————————————————————————————————————
N.B: you can follow me at – Robert Patrick Fati Gakwerere page (Facebook page), @RGakwerere (tweeter) or at my blog – rpfgakwerere.org.
However, for those in the enclave – Rwanda, the blog rpfgakwerere.org was blocked by the junta regime, it can't be accessed unless you are using VPN.