Earlier today, Maj Gen Kasirye Gwanga was pronounced dead at Nakasero Hospital. A UPDF notice stated, "today, June 9, 2020, we have learnt that Uganda Army General and great hero Kasirye Gwanga has died."
Kasirye death has caused pains and heartache to friends and loved ones, and the entire Uganda as they are pouring tributes and condolences on different platforms, most especially social media.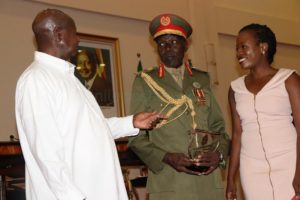 Maj. Gen. (Rtd) Kasirye Gwanga breathed his last Tuesday morning while at Nakasero Hospital where he had been undergoing treatment of a yet to be named illness.
He was 68.
Gen. Gwanga's illness was first announced to the public late April by the UPDF when he was admitted at the force's health facility in Mbuya, Kampala.
An NRM historical, Maj. Gen Kasirye Gwanga commanded National Resistance Army (NRA) 120mm artillery unit that captured Kampala in 1986.
He also served as LCV chairman of Mubende district.
He was officially retired from the army in 2018 after being elevated from rank of Brigadier to Major General.
More about Gwanga
Born in 1952, in Mubende District, Gen. Kasirye Ggwanga went to Katakala Primary School and Kibuli Secondary School for his O-Level education.
He joined the army in 1972. Idi Amin Dada was the president at the time.
After training, Gwanga was posted to Arua as a map reader, serving in that capacity until 1977.
In 1978, he was promoted to the position of artillery officer.
During this period, the Tanzania People's Defence Force (TPDF) invaded Uganda, capturing Kampala to deposed Amin.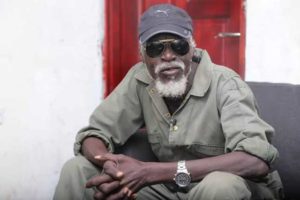 As the attack raged on, Kasirye Ggwanga was taken to Tanga, Tanzania as a prisoner of war.
He became staff sergeant in 1979.
In June 1980, President Godfrey Binaisa negotiated the return of the political prisoners to Uganda and 0n Oct. 7, 1981, Kasirye Gwanga was in the first batch to be released.
Three months into his release, the Uganda Freedom Army (UFA) rebels led by Andrew Kayiira attacked the army barracks at Mengo, Lubiri in Kampala.
The Obote government suspected recently released prisoners (former Idi Amin soldiers) were involved in the attack and Ggwanga was placed on the "wanted list".
He went into hiding.
His elder brother, Lt. James Kasirye, a military pilot then based at Nakasongola Military Air Base — was arrested, tortured before being killed for refusing to identify his brother's hideout.
This prompted Gwanga to join the UFA rebels.
It is in 1985 that he quit UFA to join Yoweri Museveni's NRA, which captured power in January 1986.
Between 1986 and 2005, he served in several roles, including as LC5 chairman for Mubende district, director of stores in the UPDF.
He retired from the UPDF on Jan. 31, 2005 at the rank of brigadier.
However, three months into retirement, he came back to the military and asked to be re-instated.
He rejoined on a renewable contract of five years.
In March 2018, Kasirye Ggwanga was promoted from the rank of Brigadier to that of Major General and officially exited the army.
Kasirye Ggwanga was a married father.
He owns farms, including those in Mubende District and Mukono district.