By: Rpf Gakwerere
Rest in Peace President Peter Nkurunziza, the President of Burundi.
My condolences to his family, members of his political party and all the people of Burundi.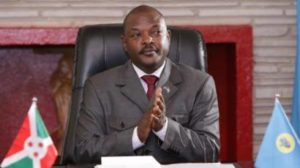 Critical questions to ask: Has President Peter Nkurunziza (RIP);
1) Died of heart attack as indicated by a statement from the government of Burundi?
2) Died of Covid 19 as rumoured in the streets of Burundi?
3) Died of poison as being whispered in states intelligence corridors of East African countries, especially Rwanda's intelligence apparatus.
Will there be an independent post-mortem?
As I post this, Criminal Paul Kagame is currently locked up in a meeting with his trusted military intelligence officers and army chiefs at Village Urugwiro. Subject – Burundi. The meeting started 22:00 hrs (10:00 PM) Kigali time.
STAY TUNED
RIP, MUTAMA, PRESIDENT PETER NKURUNZIZA