By: Seruga Titus
INTRODUCTION
James Kabarebe the current advisor to President Kagame on security is the man who coordinated and supervised the assassination of the, charismatic, disciplined, down to earth but brave founder and leader of Rwanda Patriotic Front and Rwanda Patriotic Army, Major Gen. Fred Gisa Rwigema
There has been a lot of mystery, speculations, confabulation, many conspiracy theories about the death of this Revolutionary son of Africa.
Fred Gisa Rwigema was a Rwandan refugee who lived in Kahunge refugee camp. He had left Rwanda in the social political upheaval that surrounded the transition to self governance or "Independence", a process Belgians purposefully made violent especially against the Rwanda monarchy, the aristocratic class and land owners, who happened to be of the Tutsi tribe. The Belgians were so extreme in their fight against the monarchy that they excommunicated the then King of Rwanda Kigeli V Ndahindurwa who died in exile, October 2016, Virginia USA.
In this upheaval, Fred Gisa Rwigema's father was killed, the surviving family moved to Uganda. Rwigema had been born in 1957 therefore, when the family moved from his ancestral home in Gitarama, he was only 3 years. The family first settled in Nshungerezi in South Western Uganda, but later moved to Kahunge in Tooro.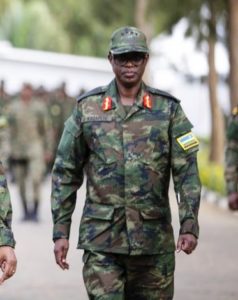 Rwigema did well in school and was admitted to one of the prestigious secondary schools in Uganda at the time, Mbarara High School where he met and became friends with Chef Ali ( aka Mwiine Kajungu), an individual who became one of the most prominent leaders in reversing Uganda's tumultuous history. While at Mbarara High School, the two teenagers were recruited into an underground revolutionary movement against Idi Amin's regime called FRONASA. It had been formed by Yoweri Museveni, a young intellectual, who had been introduced to revolutionary politics when he was a student at Dar es Salaam University. Ivan Koreta who had competed his Senior Secondary education and waiting to join college was the link between the two Senior Secondary teenagers and the main recruiting agent, a man named Kahinda Otafire who was a civil servant in Amin's Government.
The above three were joined by Yoweri Museveni's brother and a number of other individuals who made a group of 28 FRONASA young men that were known as the Montepuez group. President Museveni is one of the 28 people who trained in Montepuez, Mozambique, however, his training had ended before the rest arrived. They trained in Revolutionary warfare from 1976 to 1978 & when Tanzania, in self defence invaded Uganda in 1978, FRONASA was one of the Ugandan armed groups that fought alongside Tanzania Defence Force (TDF).
Fred Gisa Rwigema and the entire Montepuez group formed the core on which FRONASA built a force as they advanced through Western Uganda in 1978/1979, then later the core of the NRA that conducted a historic guerrilla war in central Uganda and took power in 1986.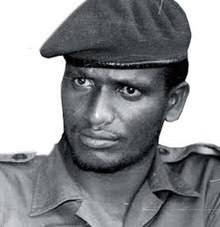 Fred Gisa Rwigema was one of the only three officers who were given a two star rank if we follow the American system. The others were Salim Saleh and Elly Tumwiine. Fred Gisa Rwigema held many positions in Uganda including, Deputy Minister of Defence and member of the initial Legislative body, the National Resistance Council, which was later expanded through electoral college elections.
In 1987, Fred Rwigema founded the Rwanda Patriotic Front (RPF) and Rwanda Patriotic Army (RPA). He obviously did it with the collaboration of many other Rwandan refugees in Uganda and especially in the army, however, Fred Gisa Rwigema was a man without an equal amongst the Rwandan refugees, whether in the army or elsewhere. Fred Gisa Rwigema had picked a former friend called Paul Kagame, when he found him on the Kampala streets, staying with him in upscale residences where Yoweri Museveni was staying and later provided him with an opportunity to be part of the historic attack on Kabamba barracks February 6th 1981. Fred Rwigyema was one of the organizers of this attack.
This is a man who in 1987, formed the Rwanda Patriotic Army & Front, Paul Kagame who had been in the shadows of the activities of the struggle & surviving through peddling of rumours to Yoweri Museveni, the Commander of the NRA began using his office: Head of Records and Research at DMI, to build a secret group that planned and assassinated Fred Rwigema on October 2nd, 1990, and eventually hijacking the leadership of the revolution followed by subverting the purpose for which it was created by Fred Rwigema. Five years later, about 3 million Rwandans were dead, genocide had happened and the number of Rwandan refugees had increased exponentially.
James Kabarebe
Of all individuals who came into contact with Major Paul Kagame at Basiima House, none is as important as a young man called James Kabarebe. James Kabarebe was a Rwandan refugee who lived in Kazo in 1981, where he had adopted the Kinyankole identity than his Rwandan heritage. The name Kabarebe is a purely Kinyankore one and whereas many Rwandan refugees changed their names for obvious reasons, Kabarebe is a special kind because he carries a name of a people he says have been enemies of Rwanda and Rwandans for ages. James Kabarebe went to Kabalega Secondary School where he completed his Senior Secondary and joined Makerere around 1979 or 1980.
When the Obote regime began persecuting Rwandan refugees and accusing them of supporting Yoweri Museveni's rebel outfit the NRA, many young Rwandan men followed Museveni to Luwero to fight instead of dying in the dungeons of the many torture chambers in Kampala. James Kabarebe is one of the many young men who abandoned their education at Makerere University to join the guerrilla war in Luwero.
Before long, James Kabarebe found the bush conditions unbearable and runaway from Luwero. In 1983 James Kabarebe and a few other cowards and charlatans run away from Luwero when the UNLA intensified its operations against NRA. UNLA mobile operations headed by Lt. Col Charles Ogole, Major Byakwaga and Major Kiyengo commanding UNLA mobile units of Hawk Mobile, Buffalo Mobile and Eagle Mobile respectively made life so difficult that all charlatans including James Kabarebe run away from those tough operations & went into hiding in different locations.
James Kabarebe travelled back to Kazo only to find that his family had actually moved back to Rwanda where Kabarebe followed them. He lived in Rwanda from 1983 to 1986 when NRA captured power, then he returned to Uganda knowing the Obote threat was gone and there was no war to fight.
James Kabarebe's first stop was Lubiri Barracks where many Rwandan soldiers knew him. It's while lounging at Lubiri Barracks that James Kabarebe got into contact with Paul Kagame who was the Head of Records and Research Desk at DMI (now CMI).
In 1986, Uganda's Directorate of Military Intelligence (DMI), which was housed at Basiima House near what used to be a massive Rubiri Barracks was star studded. It was headed by Mugisha Muntu and had educated and or experienced heads of desks like Lt. Col. Kasaijja who headed Combat Intelligence, Lt. Col. Byemaro who headed Finance and Administration, Lt. Col. Andrew Lutaya who headed Counterintelligence that Paul Kagame was a baby in a room of adults and was mostly ignored. He therefore found enough time and space to conduct his mischiefs of initiating a plan of destroying RPF/RPA from within. Paul Kagame's Narcissistic personality disorder was the trigger for what he began doing while at DMI.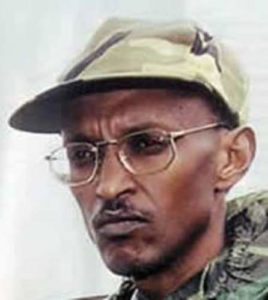 He helped James Kabarebe to return to Makerere University to complete his course by pretending to be a member of NRA even when he was a civilian. By the time James Kabarebe completed Makerere University, he had collected a number of Rwandan refugees who had the hunger to join NRA. These included, Charles Kayonga, Jack Nziza, Dan Munyuza, Emmanuel Gasana, Kato Alexis Kagame and of course James Kabarebe. These young men, though not in the army were always at Basiima House or in Lubiri Barracks or in Katwe and soon Paul Kagame began using them to bring information regarding other officers of Rwandan origin in NRA.
In 1987, Paul Kagame arranged for these young men who began calling themselves COWBOYS, to attend a three month basic military training course. In 1988, Paul Kagame arranged for a few of these young men to attend the martial arts and snipping course at Kireka. Every time he did this, Paul Kagame would always go through Gen. Rwigema then & would tell him it was in light of building capacity for the interest of RPA which was headed not by Paul Kagame but by Fred Rwigema. Through Fred Rwigema, all activities he wanted done, Paul Kagame got them done. Fred Rwigyema was a very busy man especially because he was Deputy Minister of Defense and the one handling Uganda's support of SPLM/SPLA. He had therefore asked Major Peter Bayingana to lead preparations assisted by Major Paul Kagame. Therefore, it would never have been apparent that Paul Kagame was building a hit squad with RPA ranks using NRA resources. This squad was headed by 2nd Lt James Kabarebe and the hitman was 2nd Lt Kato.
Those who attended the course were James Kabarebe, Kato a young man from Namutamba, a place that had and still has many Ugandans of Rwandan origin, and Charles Kayonga. At the end of the course Kato emerged the best marksman. He could hit the bull's eye even in motion. He was so good that he had no equal when he graduated from Kireka training school.
In 1989, these same individuals were admitted at Jinja Cadet School, like before, James Kabarebe, Kato, Charles Kayonga and the rest of this Cowboy club with qualifications were there.
This training ended in September 1990, with only two weeks to the RPA invasion of Rwanda. In an army that had few commanders at a time that all Rwandan refugees in Uganda and elsewhere had prayed for and waited for, for decades, Paul Kagame decided to travel to the US to study at Fort Leavenworth. All Rwandan refugees who had joined the military whether Uganda Army or NRA, knew they were looking for skills to one day return home by force. When the day finally arrived, and when there was fever pitch preparations to return home, Paul Kagame flew thousands of miles to be in Kansas in the USA, where he didn't even study because, according to his own words, he knew he wanted to return and join with the others following the "something bad that happened to Fred".
Why did Paul Kagame travel to the USA mid 1990? Does anyone know? Has he ever said why he left the rest of the people facing danger to be in the United States?
Before he left for the United States, Paul Kagame introduced two young men to Fred Rwigema and these were 2nd Lieutenant James Kabarebe and 2nd Lieutenant Kato who were both fresh graduates from the cadet school. Kato had again emerged the best Cadet in this 1989/1990 intake.
Paul Kagame introduced each of the young men; James Kabarebe who, according to Paul Kagame was a University graduate and would be an excellent ADC to Fred. Let's remember that James Kabarebe and Fred Rwigema's height was nearly the same and in terms of acting as a bodyguard James Kabarebe was a perfect match. 2nd Lieutenant Kato's marksmanship and leadership skills were explained to Fred and he didn't hesitate to take all the young men. Major General Fred Rwigema took James Kabarebe and Kato to his home that was full of other young Rwandans from around the region who were hidden there and only waiting for day. In the meantime, Paul Kagame went to the USA.
On 2nd October 1990 at around 10:00 to 11:00 a.m. Fred Rwigema left his command post to and moved by foot towards the frontline and before he reached the line he turned right and began climbing a hill known as Matimba Hill. He was holding a transistor radio and listening to BBC news. There was a 12.5mm antiaircraft gun that had fired salvos at two slowly advancing reconnaissance APCs. Both drivers and gunners had ejected and bolted to the direction they had come from. When Fred Rwigema began moving, the APCs had been neutralized. He was guarded by about 30 or more officers and men who surrounded him perfectly.
Amongst the people who moved with Fred Rwigema as he climbed up Matimba hill, was 2nd Lieutenant James Kabarebe and 2nd Lieutenant Kato. On reaching the top of the hill, soldiers were still firing sporadically to clear the hooches in front of them. It's at this time that Fred Rwigema's guards joined in the shooting, then suddenly, a bullet hit Fred Rwigyema from behind him. It hit him in the back of the upper part of the neck. The bullet exited through Fred's Lower jaw taking most of the bone and muscle with it killing him instantly. The bullet would have cut through Fred spinal cord and he would never have known what hit him because he died instantly.
IN PART I OF THE EXPOSITION ON HOW PAUL KAGAME USING JAMES KABAREBE, ASSASSINATED THE SON OF AFRICA GEN FRED RWIGYEMA, WE SHALL EXAMINE WHY PAUL KAGAME, JAMES KABAREBE, KATO AND OTHERS WE SHALL MENTION KILLED FRED RWIGYEMA, A MAN WHO STARTED SACRIFICING HIMSELF AT THE AGE 19 YEARS, ENDURED MANY HUMILIATIONS BY MEMBERS OF THE UNLA WHO REJECTED HIM AND SOME NRA OFFICERS WHO WERE FOUND OF ATTACKING HIM USING INNUENDOS, BUT HE MAINTAINED HIS DISCIPLINE TO SECURE FOR RWANDAN REFUGEES IN UGANDA A PLACE WHERE AN OPPORTUNITY TO GO HOME BECAME AVAILABLE.
INKOTANYI CYANE – Fx-017021 FOR RO/00015