By: Rpf Gakwerere
On 16th October 20, at Nyarugenge Intermediate Court, Dr. Isaac Munyakazi was sentenced to a 10-year imprisonment and a fine of Rwf10 million for abuse of office.
In February this year, Isaac Munyakazi was forced to resign from his position as State Minister in charge of Primary and Secondary Education in the Ministry of Education.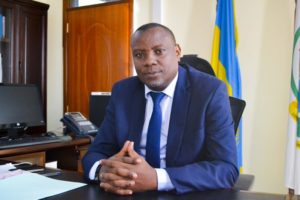 The same Court also gave his best friend and co-accused Abdu Gahima a sentence of 5-years in jail and a fine of Rwf1.5 million after convicting him on corruption. Abdu Gahima is well known in Kigali, he is businessman and proprietor of Good Harvest School located in Kicukiro District.
Like several cases in criminal Paul Kagame's Kangaroo courts, this time around, the informer, and a person who's evidence was the basis that the prosecution used to build this case didn't appear in any hearing, and this would have allowed defence lawyers to cross examine the witness/informer.
Alphonse Sebaganwa, the Head of Examinations, Selection and Assessment Department at Rwanda Education Board (REB) was the only key witness and an informer that the prosecution built their charges and prosecution on his evidence, but he never stepped in court to give evidence or be cross examined.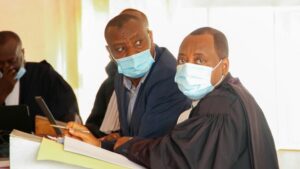 In one of the court hearing, defence lawyer of Abdu Gahima asked why Alphonse Sebaganwa cannot be in court for cross examination, the prosecutor replied, "there was no reason to summon him to court because he reported the case to Rwanda Investigation Bureau (RIB) after the crime had happened, and gave the testimony of what happened to prosecution."
Isaac Munyakazi joins a league of those former Paul Kagame servants and minions who were fattened, and when there uselessness was no longer required, they were dumped, humiliated, incarcerated, exiled and some given a one way ticket to the graveyard.
Isaac Munyakazi was fattened by the satanic regime from being an administrator in charge of discipline at Gaddafi Islamic School in Rwanda, through different positions within the ministry of education to being a State Minister in charge of Primary and Secondary Education in the Ministry of Education. And now, his being incarcerated in dictator Paul Kagame's dungeon after his usefulness are no longer required.
Asking isn't a crime. Dear oppressed and enslaved Rwandans, when did Isaac Munyakazi get his PhD? Criminal Paul Kagame's media always address him as DR. I remember him doing his long distance master's degree at Mbarara University of Science And Technology.
Corporal is merely informing you, otherwise, I don't interfere when criminal Paul Kagame is disciplining his inept minions and goons. When you serve SATAN you should expect death.
————————————————————————————————————
N.B: you can follow me at – Robert Patrick Fati Gakwerere page (Facebook page), @RGakwerere (tweeter) or at my blog – rpfgakwerere.org.
However, for those in the enclave – Rwanda, the blog rpfgakwerere.org was blocked by the junta regime, it can't be accessed unless you are using VPN.