By: Rpf Gakwerere
1) On 19 October 2020 the Supreme Court of Burundi sentenced the former president, president Pierre Buyoya to life in imprisonment for the 1993 murder of President Melchior Ndadaye.
2) Early November 2020, President Pierre Buyoya privately secures luctrative consultancy contracts with two Organisations in Mali, including a consultancy contract with the new government of Mali, pending resignation from his AU work.
3) On 24th November 2020, The former Burundian president Pierre Buyoya who was a special envoy of the African Union to Mali and the Sahel resigns from his post noting he wants to clear his name on alleged involvement in the murder of his successor, President Melchior Ndadaye.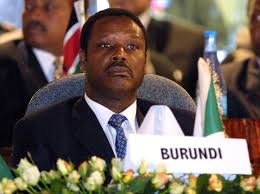 In 2008, Pierre Buyoya was appointed by the African Union to lead a Peace Mission in Mali. On 30 January 2013 the then Chairperson of the Commission of the African Union (AU), Dr. Nkosazana Dlamini Zuma, appointed former President Pierre Buyoya of Burundi as AU High Representative for Mali and Sahel, also appointed him as a Special Representative and Head of the African led International Support Mission in Mali (AFISMA).
4) On 5th December 2020, he tested for covid-19 in Malian capital Bamako, and results returned positive for Covid-19. This was after a day of having developed Covid-19 related symptoms. He self isolated, and being a diabetic sufferer, those around him – family member were a bit worried.
5) His condition worsened, and on 10th December 2020, he was rushed to a hospital in Bamako, Polyclinique Pasteur, which is run by french expatriates. While here, his health suddenly deteriorated while on artificial respiration, in Intensive Care Unit.
6) On 17th December 2020, President Pierre Buyoya was evacuated to Paris through Dakar Senegal, arrived in France in the evening – on the same day, and he died as the ambulance was transporting him from the airport to a Paris hospital, hôpital pitié salpêtrière.
————————————————————————————————————
N.B: you can follow me at – Robert Patrick Fati Gakwerere page (Facebook page), @RGakwerere (tweeter) or at my blog – rpfgakwerere.org.
However, for those in the enclave – Rwanda, the blog rpfgakwerere.org was blocked by the junta regime, it can't be accessed unless you are using VPN.