By: Command1post
Uganda and the Democratic Republic of Congo on Thursday signed an intergovernmental agreement on infrastructure.
The event took place at State House, Entebbe. It was presided over by President Yoweri Museveni and attended by a delegation from DR Congo led by its deputy prime minister.
Other notable attendees included outgoing Ugandan Foreign Affairs Minister Sam Kutesa and the speaker of parliament and his deputy Hon Anita Among, AG William Byaruhanga,former minister of works and transport Gen Katumba Wamala among others.
"I welcome you deputy prime minister with your delegation. It is good that his excellence Felix Tshiskedi sent you so we can do something about the roads," the President said. "We are also ready for power—we took power close to Kasidi. But we can take it to Beni, Butembo and Mahagi because we have got excess power."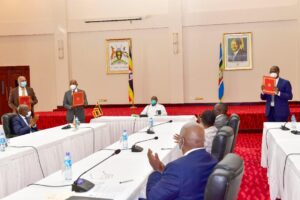 President Museveni meeting Delegation from DR Congo
The President also highlighted security as the other important aspect of the agreement.
"So, on those three: security, roads and electricity, we are ready. If we can do those three, then the people in that area will be happy on both sides (of Uganda and DR Congo)."
The President said that despite Uganda and Congo being independent countries, there are many things both countries share in common.
He said for example that tribes like the Alur and the Lugbara of West Nile are found in both countries.
President Tshiskedi was one of the guests at President Museveni's recent presidential inauguration, a show of the cordial relations between the two countries.
Ofwono Opondo, the government spokesperson, said recently that Cabinet has already approved the construction and upgrading of a national road from Kasidi at the border between the two countries to Beni (80km).
He said that Uganda would also work on the integration of the Beni-Butembo axis (54km) to a national road and Bunagana (border) to Ruchuru-Goma (89km). All these will total 223km of roads constructed.
According to the government, the project will benefit the people of Uganda through economic development.
DRC is one of Uganda's biggest trading partners, with a number of Uganda's exports such as cement, cooking oil, soap and tea among others.