By: Rpf Gakwerere
This year, 1st May 2021, it was exactly 14 years since a true son of Uganda, a Patriotric Ugandan son, a gallant officer and a selfless person, departed from this world through a dark evil assassination orchestrated by criminal Paul Kagame.
Brig Gen Noble Mayombo was everything that one wished to see in a human being. He was intellectually brilliant, brave, kind, fair to everyone and always willing to help those in trouble or under persecution. He was a perfect mankind.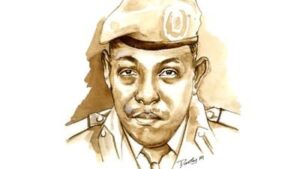 His troubles started in year 2000 during the Rwanda – Uganda war in Kisangani. During the Rwanda – Uganda war in Kisangani, criminal Paul Kagame promised three Ugandan officers that he will send them to their creator. And criminal Paul Kagame made sure all these Ugandan patriots received the message.
These Ugandan patriotic officers were Gen James Kazini, Brig Gen Noble Mayombo and Col Sula Semakula. Criminal Paul Kagame started with the soft target, Col. Sula Senkooto Semakula was assassinated through poison in 2005, then Brig Gen Noble Mayombo was assassinated through poison in 2007 and later Major General James Kazini was assassinated in 2009.
With all these eliminations, the Ugandan government kept quiet yet they knew the chief orchestrator. During Gen Mayombo's burial, president Museveni noted that, "our cadres are being eliminated by enemies in the region." He fell short of naming criminal Paul Kagame, the region's skinny SATANIC creature always referred as PILATO by historicals of both the National Resistance Army and Rwanda Patriotric Army.
When criminal Paul Kagame promises to bring death to you, he will make sure he uses all tools at his disposal in order to eliminate the target. If there is any promise that criminal Paul Kagame keeps, it's the promise to eliminate his target(s). If he fails, he always comes back as Lt General Kayumba Nyamwasa has come to realise after surviving four assassinations.
On 1st of May, we always remember the day Brig Gen Noble Mayombo died at the hands of criminal Paul Kagame. Criminal Paul Kagame's hate against Brig Noble Mayombo, the hate which started in Kisangani in 2000 ended up by meticulously being eliminated under direct orders, orchestration and planning of criminal Paul Kagame.
Afande, I do miss you each single day.
R.I.P BRIG GEN NOBLE MAYOMBO