By: Dr David Himbara
On Monday, January 17, 2022, General Paul Kagame received Ambassador Adonia Ayebare who was in Rwanda to transmit a special message from the Ugandan head of state, Yoweri Kaguta Museveni. A day after Ambassador Ayebare's visit to Rwanda, the Kagame government took to the media to denounce the visit as pointless.
The Rwandan government spokeswoman, Yolande Makolo tweeted that "meetings & envoy visits have not led to tangible results on Uganda's part. Still no accountability for terrorist elements operating against Rwanda inside Uganda, and harassment of innocent Rwandans continues."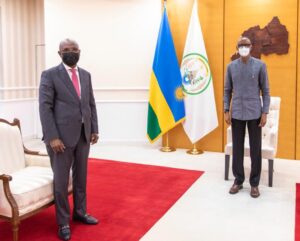 In Kagame's Rwanda, the term "diplomacy" is unknown. In Kagame's republic, skillful management of international relations has been replaced by bombastic rhetoric and gangster language.
Stay tuned.