By: Rpf Gakwerere
Today, Kidnapped and incarcerated Paul Rusesabagina appeared at the prosecutor's office in Kimihurura for questioning. Than allowing lawyers who were chosen by his family to appear alongside him at the prosecutor's office during his questioning, instead, imposter lawyers turned up as Paul Rusesabagina's defence lawyers.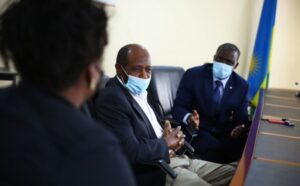 The state are still presenting RPF cadre David Rugaza as Paul Rusesabagina's legal counsel, in my past post and attached below, I posted on David Rugaza, his affiliation to the ruling party – RPF, and how he is a staunch supporter of criminal Paul Kagame and his brutal rule. To make matters worse, the brutal regime has appointed another RPF cadre, Emeline Nyembo in Paul Rusesabagina's defence team which has been assembled by the Directorate of Military Intelligence. This is like a Jew using staunch Nazi ideology to defend him/her in Hitler's judicial system.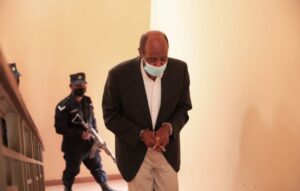 www.rpfgakwerere.org/2020/09/06/paul-rusesabagina-appoints-a-senior-rpf-cadre-david-rugaza-as-his-lead-counsel/
Meanwhile, Paul Rusesabagina's real lawyers chosen by his family and friends are still being refused access to their client while impostor lawyers provided by the brutal regime have access and have continued to provide fake legal advice, despite Rusesabagina's family denouncing them.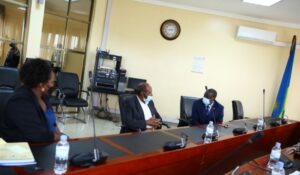 As all cases in Rwanda, in this case, criminal Paul Kagame is the arresting officer, interrogator, prosecutor, defence lawyer, the judge and prison officer. Don't expect any form impartial justice under the brutal totalitarian ruler.
www.rpfgakwerere.org/2020/09/07/the-family-of-paul-rusesabagina-denies-and-blocks-imposter-rpf-cadre-lawyer-david-rugaza-as-they-represent-a-six-man-legal-team-to-represent-paul-rusesabagina/
Below is a legal expert team of international human rights lawyers that is supposed to provide legal defence presentations on behalf of Paul Rusesabagina but have been denied access:
Gatera Gashabana, Rwanda
Vincent Lurquin, Belgium
Kate Gibson, Australia
Peter Robinson, United States
Jared Genser and Brian Tronic, United States
Philippe Larochelle, Canada