By: Rpf Gakwerere
After one year and half in Central Africa, serving under United Nations Multidimensional Integrated Stabilization Mission in the Central African Republic (MINUSCA), Makerere educated medical doctor, Col Prof Alex Butera returned to Rwanda, and he was immediately arrested by military police and taken to Kanombe military detention centre where his being incarcerated. It's now over three weeks since he was arrested.
He is being investigated for misconduct behaviours committed in Central Africa Republic. Col Prof Alex Butera is extremely intelligent, professional and a well disciplined military officer. Those who have worked with him can all attest at the level of his professionalism and discipline.
During his military tour in Central Africa Republic, he was deployed in Bria, the capital of Haute-Kotto prefecture. Col Prof Alex Butera was a medical contingent Commander for United Nations Multidimensional Integrated Stabilization Mission in the Central African Republic (MINUSCA) in Bria, Haute-Kotto prefecture, Central African Republic.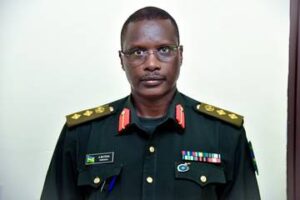 Col Prof Alex Butera's arrest is an underground intrigue wars between Uganda born military officers vs Burundi born military officers within Criminal Paul Kagame's militia army of Rwanda Defence Force.
Burundi born Brig Gen Vincent Nyakarundi alias Mubembe was appointed as head of the Directorate of Military Intelligence (DMI) recently rebranded as Defence Intelligence mainly to neutralize Uganda born military officers especially those with potentials or those who aren't aligned to Jeannette Nzirorera Kajuga Gasana Kagame, Ange Kagame and Brig Gen Willy Rwagasana axis of power grab.
Brig General Vincent Nyakarundi was appointed as DMI chief by Burundi born Jeannette Nzirorera Kajuga Gasana Kagame with critical mandate of rebuilding DMI with Burundi born military operatives, re-screen military officers while forwarding names of those military officers born in Burundi for appointment in critical positions.
Just a recent case, in December 2021, through this process of re-screening and positioning Burundian born military officers within RDF, Jeannette Nzirorera Kajuga Gasana Kagame appointed Col François Régis Gatarayiha alias Karateka as Deputy Head of DMI and Director of Technology in the ministry of Defence.
What are trumped up allegation(s) against a well disciplined officer aimed at? But the satanic regime doesn't do anything by mistake.
Col Alex Butera knows very well what killed Col. Willy Bagabe, Major Jean Claude Kalisa alias Muzungu, other suspicious deaths and assassinations. Through his years as a medical consultant at both Kanombe military hospital and King Faisal Hospital, this allowed Col Alex Butera to come across confidential dossiers on assassination operations and cover-up on eliminated targets especially those hit through poison. Will Col Alex Butera be eliminated for knowing too much like Dr Charles Murego, Dr Emmanuel Gasakure or Prof
Pierre Claver Kayumba?
Education profile of Col Prof Alex Butera
MB CHB, FC ORTH(SA), FCS (ECSA)
Chief Consultant Orthopedic Surgeon and Associate Professor of Orthopedic Surgery whose main interest is Spine and Joint replacements (Hip and Knees), but occasionally responds in cases of severe trauma. He does both primary and revision cases in spine and joint replacements.
Trained in Makerere University Medical School, Uganda and graduated with MBCHB in 1994.
Worked in Rwanda as Regional Medical Officer in the then Kibuye Prefecture and later specialized in Orthopedic Surgery in the University of Witwatersrand, Johannesburg from 2000 to 2006 and qualified with FC ORTH ( SA) from College of Medicine of South Africa.
He rose through the ranks of Head of Department, Director and later CEO of King Faisal Hospital, which he left in 2013.
He is now devoted to caring for his Orthopedic patients and in training of residents and medical students from the University of Rwanda and COSECSA.
He is currently the Chief of Clinical Services at Rwanda Military Hospital and Consulting Orthopedic Surgeon at Oshen King Faisal Hospital.
He is active in the following associations: ROA, RSS, COSECSA, AOSpine, AAOS and NASS.
———————————————————————————————————–
N.B: you can follow me at – Robert Patrick Fati Gakwerere page (Facebook page), @RGakwerere (tweeter) https://twitter.com/RGakwerere?s=08 or at my blog – rpfgakwerere.org.
However, for those in the enclave – Rwanda, the blog rpfgakwerere.org was blocked by the junta regime, it can't be accessed unless you are using VPN.