By: Rpf Gakwerere
There are things that happen in DR Congo that doesn't happen anywhere else. Forget Uganda's comedy in politics, in DR Congo, political comedy by elites is at another level, they have a name for it, "politique Wenge." The worst part, their comedy doesn't stop among political elites, but it has spread in the army, FARDC.
Yesterday, Saturday, 12th February 2022, DR Congo's presidential guard Division left Kinshasa residents amused, and referring to this special force unit as a batch of jokers.
Around 8:00 Am, morning, the commander of DR Congo's presidential guard division, Major General Christian Tshiwewe called for a general assembly for officers and men of this unit. He then instructed the men and officers to March around Kinshasa in support of the Commander in Chief President Felix Tshisekedi who wasn't in the country as he had traveled to Congo Brazzaville for a mini summit on peace and security in the region with other presidents, President Dennis Sassou Nguesso, President Museveni and President Faure Essozimna Gnassingbé Eyadéma.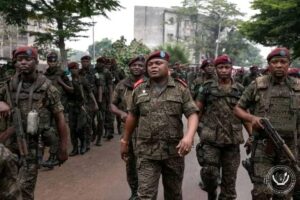 Men and officers of the presidential guard spent 5 hours marching from Suburb to suburb of Kinshasa in support of President Felix Tshisekedi and demonstrating walking durability.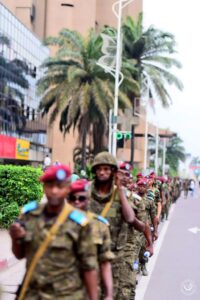 But Kinshasa residents referred as Kinois were wondering why can't they not go to eastern DR Congo to fight all sorts of armed groups that are killing civilians day and night rather than roam around Kinshasa with silly objectives. As Ituri region, North Kivu and South Kivu are burning at the hands of armed killers and others committing genocide, DR Congo's elite force, the presidential guard spent a day roaming around Kinshasa to the amusement of Kinois.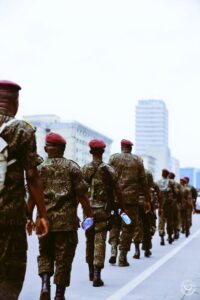 There are things you don't do, that is turning an army into a joker's club with silly command instructions. What did Major General Christian Tshiwewe objectively gain by instructing men and officers of the presidential guard to spend 5 hours roaming around Kinshasa? Did Major General Christian Tshiwewe achieve his aim(s) and objective(s)?
———————————————————————————————————–
N.B: you can follow me at – Robert Patrick Fati Gakwerere page (Facebook page), @RGakwerere (tweeter) https://twitter.com/RGakwerere?s=08 or at my blog – rpfgakwerere.org.
However, for those in the enclave – Rwanda, the blog rpfgakwerere.org was blocked by the junta regime, it can't be accessed unless you are using VPN.