By: Robert Patrick Fati Gakwerere
December is a month when Potato enclave's serial killer – criminal Paul Kagame activates numerous assassination and killing operations. While blacklisted targets are thinking about festive season, for Criminal Paul Kagame and his killer squad under the Directorate of Military Intelligence (DMI) are burning candles planning how to eliminate their numerous targets.
Dear oppressed, enslaved, starving and unemployed Rwandans, don't forget that we are in December, a month that criminal Paul Kagame gives human sacrifices to his Satans (Nyabingi). A ritual that he has been practicing since 1984 to present.
Be careful of both open assassination (shooting) or hidden assassination (poison). DMI poison is everywhere, just opportunities to dope targets is a problem for Kagame's killer operatives.
Below, Criminal Paul Kagame's current commanders heading hit squads.
1. Maj Gen Vincent Nyakarundi, head of killer Directorate of Military Intelligence, recently rebranded as Defence Intelligence.
2. Notorious assassin – Maj Gen Joseph Nzabamwita, head of National Intelligence and Security Services.
3. Col Jean Paul Nyirubutama, head of external intelligence.
4) Notorious killer – Maj Gen Dan Munyuza, head of killing police force.
5) Treacherous assassin Gen James Kabarebe, head of special operations, in short, head of criminal Paul Kagame's terror squad – hit squadron.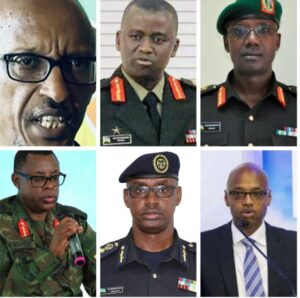 To those who are blacklisted by the bloodthirsty junta regime, keep safe and vigilant, Dictator Paul Kagame and his various killer – hit squads want your innocent blood at all cost.
May the Almighty God protect you all.