By: Robert Patrick Fati Gakwerere
The photo below was taken in March 2019 when President Felix Tshisekedi was still taking orders from Criminal Paul Kagame in the name of building good relationship. In the photo below, President Felix Tshisekedi was surrounded by Criminal Paul Kagame's notorious assassins.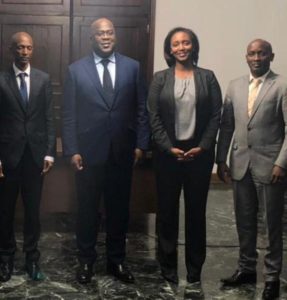 * On President Felix Tshisekedi's right, it's Col Anaclet Kalibata who was then the Director General of Rwanda's External Security, but currently he heads DR Congo's intelligence desk at National Intelligence and Security Services.
* On President Felix Tshisekedi's left, it's Yvonne Makolo, the chief executive of Rwandair. Yvonne Makolo is a Luba Congolese, born in Lubumbashi and daughter to late engineer Romain Makolo, former Commercial director of GECAMINES. However, her mother is Rwandan.
Yvonne Makolo isn't any other chief executive, she has an intimate relationship with Criminal Paul Kagame. One of criminal Paul Kagame's several side-dishes and a ruthless National Intelligence and Security Services operative attached to special assignments.
Luba Congolese Yvonne Makolo is a well trained intelligence/spy operative and an active participant in many military/civil intelligence operations especially transporting poison liquids/powder/tablets for assassinations, befriending identified high end targets..etc.
She continuously uses Rwandair which she currently heads to transport deadly Directorate of Military Intelligence poison to different cities and capitals. She's a money laundering mule for Criminal Paul Kagame family, using Rwandair and its accounts as a conduit route.
* On the left of Yvonne Makolo, it's notorious assassin Lt Col Mucyo Mulinzi, head of Rwanda's Directorate of Military Intelligence (DMI) operations, and currently the chief coordinator of DMI operations in DR Congo. This assassin is washed in blood of very many innocent people.
Lt Col Mucyo Mulinzi's assignments are always around kidnapping, poisoning, torturing and assassinating people deemed to be anti Kagame. He's a psychopath, a bona fide serial killer who's taking lives of innocent people is a passion and hobby.