By: Trumpetnews.co.ug
Fred Kamaliza met his death on Friday night as he attempted to jump from the second floor that houses the boardroom of Military Intelligence (CMI) at Mbuya hill in Kampala.
The deceased was a Rwandan citizen running personal businesses in Uganda and known for living larger than life.
He owned posh cars with personalized Fred K" number plates.
Mr Kamaliza was arrested last week on allegations of spearheading a shs.2 billion 'heist' in Cairo Bank.
He was apprehended by operatives from Chieftaincy of Military Intelligence (CMI) and detained at Mbuya pending investigations.
According to a source who asked not to be named because of the sensitivity of the matter, Kamaliza allegedly hacked into the Cairo Bank system and successfully executed a shs 2 billion fraud.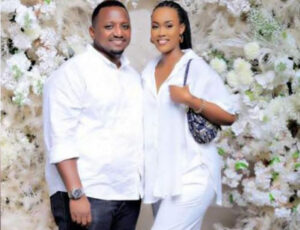 "The Bank alerted security (CMI) which kicked off forensic investigations," said a source.
Before his arrest Fred Kamaliza a fortnight ago sponsored a glamorous birthday party at a Kampala's popular hangout that cost him shs 70 million. The deceased physically attended the bash while clad in a white shirt, blue trouser and white shoes.
He sat in the VIP section as the bar management treated him like a king.
He would later be arrested the following week over the fraud.
Death
While at CMI detention, Kamaliza was allowed to spend nights in the boardroom "because of his status."
"Usually, suspects who are not facing capital punishments are allowed to sleep in the boardroom when they are arrested. that is if they request it," said a source.
The source suggested that on Friday night, Kamaliza tied the bedsheets together to make a viable rope which he would use to slope through the window.
"Unfortunately, he overpowered the bedsheets and they got torn midair, he fell down and died on spot," a source said.
This website couldn't independently verify this narrative.
The tactic of using bedsheets to escape is not new. During the NRA liberation struggle, Gen Elly Tumwine (deceased) tied together 7 bedsheets to make a rope which he used to flee from second floor of Mulago Hospital where he was admitted nursing a wound in the eye which he had sustained at Bukomero battle ground.
Information leaked to government (Obote's) that one of the rebels was smuggled into Mulago in critical condition, on learning he was being hunted, Tumwine used the tactic to evade arrest.
The UPDF spokesperson Brig Felix Kulayigye was not available for a comment when reached.
Equally, the Chief of Military Intelligence Maj Gen James Birungi didn't pick our reported calls.
The widow of Kamaliza who also wished to remain unnamed said plans were underway to repatriate her husband's body to Rwanda.
More details will be published as events unfold.