By: Robert Patrick Fati Gakwerere
"15 new specialised brigades have been formed from well trained personnel, and these brigades will soon be deployed at the frontline in east of the Country," Lt Gen Tshiwewe announced. In DRC a brigade is composed of 4 battalions, and a battalion has a minimum of 800 soldiers.
DR Congo's Chief of Defence Staff, Lt Gen Christian Tshiwewe made this deployment announcement on Monday October 16, during a large parade bringing together the different units of the national army, at Camp Kokolo, in Kinshasa.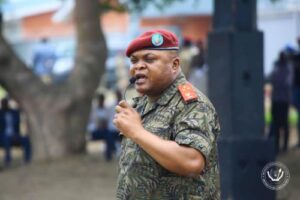 Typically, a brigade consists of three to five battalions, though this can vary depending on the country, service branch, and specific organizational structure. Some brigades might have more or fewer battalions based on their designated role and mission.
Vietnamese Resistance: Students, farmers, bankers, doctors, mothers, fathers, all Vietnamese from all walks of life joined The Viet Cong rebel movement to fight against American invaders and their local proxies.
The same trend is currently happening in DR Congo with local population rising against Rwanda's invasion and their proxies.
Criminal Paul Kagame and his satanic regime will go, I have NEVER Lost doubt on this even for a single minute.
Mentally Sick liars! Criminal Paul Kagame's inept Vuvuzelas were on Sunday the 15th October 2023 making right and left noises that RDF-M23 terrorists have recaptured Kitchanga, in Masisi. Obviously, gullible believed the wishful lie.
Let me repeat, RDF-M23 was annihilated in Masisi, and up to this day, Kitchanga like any other areas in Masisi territory have been liberated from RDF-M23 terrorists.
The Sunday 15th October 2023 attempt to recapture Kitshanga, led to crashing of the remaining pocket of RDF-M23 special force operatives in Masisi. Currently, reinforcements of RDF units have started arriving in Rutshuru with clear objective of recapturing lost areas/territories.
The war isn't over, Criminal Paul Kagame and his RDF-M23 terrorists aren't yet defeated in DR Congo.
It was a great miscalculation by mass murderer – Dictator Paul Kagame to assume that this generation of Congolese have the same mindset as his enslaved and oppressed Rwandans who have accepted his brutal dictatorship.
Greatlakes region's mass murderer – Criminal Paul Kagame has failed to realise that the DR Congo of today, isn't the DR Congo of yesterday.