By: Robert Patrick Fati Gakwerere
Today, Sunday 19th November 2023, at Martyrs stadium in Kinshasa, during the start and launch of his presidential campaign, Félix Tshisekedi adopted a Patriotic campaign mood.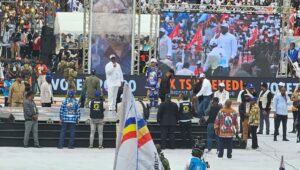 Accompanied by his political allies, including Jean-Pierre Bemba, Sama Lukonde, Bahati Lukwebo, Mboso Nkodia, Vital Kamerhe, and Augustin Kabuya, the current president spoke with palpable determination.
Dressed in white, in homage to his father and in the presence of his wife, Tshisekedi bowed before the grave of his father at Nsele, in testimony to his filiation which is not only biological but also political.
With renewed energy, far from his taciturn image of 2018 elections, the incumbent president claimed mastery of the issues and deep affection for his country. He pointed out the obstacles encountered in achieving his electoral promises in the 1st mandate, accusing the previous coalition of delaying this progress.
Displaying an assertive nationalism and patriotism, Félix Tshisekedi denounced foreign agents naming them "foreign candidates", warning supporters and electorates about these "foreign candidates" and their attempts to keep the nation into slavery. He highlighted their failure to name the aggressor in the east of the country, questioning their statements regarding resolving conflicts within a given time frame.
Among his direct targets, the president singled out Criminal Paul Kagame, accusing the ruthless ruler of Rwanda of fomenting violence in the Kivu regions.
A strong statement where he expresses a clear break in relationship with the Rwandan president, declaring that they will only meet in heaven to be accountable to God.
He also criticized these candidates advocating collaboration with a terrorist neighbor, calling them "wanting to keep the country in slavery."
DR Congo President Felix Tshisekedi further told thousands of his supporters that there is no more room for dialogue left between him and Rwanda's Criminal ruler, Paul Kagame. "I have split with Paul Kagame because he took advantage of my good faith and will to destabilize our Country, North Kivu," he noted.
"Our roads have been separated forever. Our possible meeting will be in front of God who created us. He will judge us and know who was good or bad guy," president Felix Tshisekedi noted.
President Felix Tshisekedi thus marked the start of his campaign with clear position on patriotism and nationalism, thus laying foundation for a lively electoral debates ahead.