Gen Fred Rwigema, Major Chris Bunyenyezi, Major Peter Bayingana, Lt Col Adam Waswa, Captain Sam Byaruhanga, Col Veduste Kayitare, Brig Gen Dan Gapfizi, Col Steven Ndugute, Col William Bagire, Col Charles Ngoga, Lt Col Wilson Rutayisire, Lt Col Nathan Ngumbayingwe, Lt Gen Jacques Musemakweli, Gen James Kazini, Brig Gen Noble Mayombo, Col Willy Bagabe, Maj Emmanuel Nkubana, Col Patrick Karegeya..…etc.
Since his early 20s, Criminal Paul Kagame has been taking lives of innocent human beings. As I tweet this, Criminal Paul Kagame's agents are rounding up, kidnapping, incarcerating, torturing and assassinating innocent people.
Committing all sorts of human rights atrocities and corruption have become Criminal Paul Kagame's trade-marks.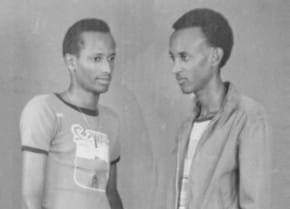 This is a man who couldn't even spare his childhood friends or military comrades, and sick minds still refer to this blood sucker as a hero.
A hero in what? Killing his childhood friends? Killing his countrymen/women? Killing Africans? Betraying his comrades? Killing over six million Africans in wars that stretches from the western rift valley areas to edges of river Congo.
This ruthless killer is a hero in what? The man and his brutal system are washed in blood of innocent people. Heroism and human rights violations can't go hand in hand, these are parallel concepts.
Soon, Criminal Paul Kagame's sins and those of his brutal system will catch up with them……
R.I.P to Fred Rwigema, comrades and all those who have died at the hands of this brutal terrorist and his satanic system.
The photo above says a lot about criminal Kagame. An evil man who killed a person who picked him from the streets of Kampala, without Gen Fred Rwigema, killer Paul Kagame would still be a mufere (conman) in the streets of Kampala. But now, he is a "presidential" mufere (conman).