Motor mouthed double agent Andrew Mwenda has nothing to new to tell the public which people who have been following his treacherous track records are not aware of.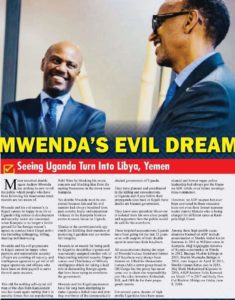 Mwenda and his evil masters in Kigali cannot be happy in as far as Uganda's big strides in development and security sector are concerned when Kampala is no longer a fertile ground for his foreign master's agents to conduct their illegal activities including kidnapping, killing, stealing and destroying.
Mwenda and his evil paymasters in Kigali cannot be happy when patriotic and nationalistic security officers are combing all security and intelligence agencies to get rid of all rogue operatives and officers who have been on their payroll to serve the evil same masters.
This old for nothing self-styled old man of the clan from Kanyandahi was last week again ranting that it is security forces that are popularizing Bobi Wine by blocking his music concerts and blocking him from disrupting businesses in the down town Kampala.
Yes double Mwenda must be concerned because him and his evil masters had always benefited from past security laxity and opposition violence in the Kampala business center to cause havoc on Uganda.
Thanks to the current patriotic spy chiefs for fulfilling their mandate of protecting Ugandans and our territorial integrity.
Mwenda is on record for being paid by Kigali to destabilize Uganda and was recently assigned another role of blackmailing internal security Organization and Chieftaincy of Military intelligence chiefs for taking a lead role in dismantling foreign agents that have been trying to overthrow the government.
Mwenda and his Kigali paymasters have for long been attempting to make Uganda a failed state and plotting overthrow of the democratically elected government of Uganda.
They have planned and coordinated in the killing and assassinations in Uganda and if you follow their propaganda sites back in Kigali these deaths are blamed government.
They knew once president Museveni is isolated from his own close people and supporters then the public would do call for his overthrow.
These targeted assassinations Uganda have been going for the last 12 years or so with support of their double agent ie notorious Kale Kayihura.
All assassinations during the reign of Mwenda's close friend and former IGP Kayihura were always been blamed on Allied for Democratic Forces (AD) a terror group based in DR Congo but the group has never come out to claim the responsibility just like other terrorists Alshaabab, ISIL and ISIS do for their propaganda stories.
For several years, dozens of high profile Ugandans have been assassinated and former rogue police leadership had always put the blame on ADF rebels even before investigations commence.
However, no ADF suspect has ever been convicted in these assassinations not even their former supreme leader Jamilu Mukulu who is being charged for different cases at Kampala High Court.
Among these high profile assassinations blamed on ADF include assassination of Sheikh Abdul Karim Sentamu in 2011 at William street in Kampala, Hajj Kigejogejo Kiwewa of Kyanja supermarket in Ntinda in 2012, Busoga Muslim killings in 2013, Sheikh Mustapha Bahiga in 2014, Joan Kagezi on April 30 2015, Sheikh Hassan Kirya also in 2015, Maj Sheik Mohammed Kigundu in 2016, AIGP Andrew Felix Kaweesi on March 17 in 2017 and lastly Hon Col Ibrahim Abiriga on Friday June 8, 2018.