By: Rpf Gakwerere
On Saturday, President Museveni started a 195-kilometre (121-mile) walk from Galamba, north of Kampala, and will end on January 10, 2020 in Birembo south of the capital where his rebel army faced one of its toughest battles in the liberation struggle.
The trekking of 195 Kilometre proves that President Museveni is still physically fit and healthy. This contradicts what Criminal Paul Kagame's DMI thugs have been feeding him that President Museveni has short time to live due to cancer.
Since last year, Directorate of Military Intelligence (DMI) owned and managed news outlets spread toxic articles which are based on fraudulent lies that President Museveni is a cancer sufferer, going as far as giving him few years to live.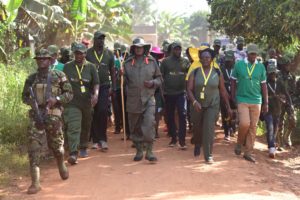 Recently, when President Museveni told Ugandans that is losing weight due to intensive exercise regime, advising Ugandans on better living lifestyle especially avoiding binge drinking, DMI owned tabloids went for another version noting that the president of Uganda is losing weight due to cancer with few years to live.
Since late 2015 to present, criminal Paul Kagame was always fed this fake information of President Museveni being a cancer sufferer by his ill trained intelligence operatives. This fake information is one of the several reasons criminal Paul Kagame was in quick preparation for double agent Kale Kayihura to be a successor to President Museveni.
President Museveni's 195-kilometre (121-mile) walk from Galamba to Birembo proves the health fitness of Mzee Wakazi akiwa Baba wataifa.
For criminal Paul Kagame and his killer cohorts, find another way of removing Baba Wataifa, health wise, the evil wishful thinking won't materialise. You have tried all sorts of evil adventures in order to eliminate him, but always backfiring because Jjaja is still protected by God.
1) You tried to poison him, it failed.
2) You tried to shoot his plane down, in what DMI refers as "the Habyarimana assassination style," it failed.
3) Tried a sniper assassination it failed.
4) Your now hoping on healthy issues, and it won't work.
Uganda is sovereign nation, and it's only Ugandans who will determine their destiny rather than a 57 Kg brutal dictator who is terrorising the great Lakes Region.
Yesterday President Museveni noted, "To the Bazukulu who joined me on this #M7Trek, I am happy that you now know some history and have felt a bit of how much people really sacrificed for the collective gains of this country. I thank you."
—————————————————————————————————————————
N.B: you can follow me at – Robert Patrick Fati Gakwerere page (Facebook page), @RGakwerere (tweeter) or at my blog – rpfgakwerere.org.
However, for those in the enclave – Rwanda, the blog rpfgakwerere.org was blocked by the junta regime, it can't be accessed unless you are using a VPN.