There is a video that has gone viral on the social media where the Rwandan ruler Paul Kagame appears glorifying his acts of assassinations of his opponents and murder of others with impunity.
In the video, Mr Kagame known for intimidating his citizens including his security forces with death threats appears saying that he will continue to shoot dead in the broad daylight those challenging his rule by the barel of the gun.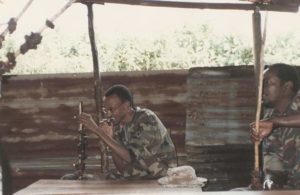 Whenever Mr Kagame wants to issue death threats, he uses local dialect, the Kinyarwanda not to be understood by the international community.
Well, Mr Kagame must take into account that murder is an inherently evil act, no matter what the circumstances, no matter how convincing the rationalization. It is a cowardly act done by cowards only. There is no reason whatsoever for killing your challenger if you truly represent the will of the majority citizens. More so there is no reason to murder a Neigbor in order to make a point. This is a symbol of barbarism and the low level of understanding.
This means that if Kagame doesnt fear to kill in the broad daylight as the entire world watches his citizens he took oath to protect and defend, he cant spare innocent neigbours .
The recent killings of Ugandans inside Rwandan territory and using their corpses for propaganda by the government of Rwanda through the state media is regretable and condemnable.
The actions by Rwandan security forces are barbaric and one of terrorist ideologies to cause panic in the populace as a way of trying to show case power and influence.
Uganda has lost five citizens at the hands of Rwandan rogue security forces in the last seven months.
There is anger and tension over these killings, families of victims and those living at the border areas near Rwanda need reassurance.
By killing people around and near Rwanda of all neighbouring districts of Uganda, Kagame is cutting off the same hand that fed him when he was hungry. ironically these are the same areas and their people are the ones who gave him and his soldiers shelter and food when he was invading Rwanda in 1990s.
Where a Ugandan citizen is suspected of breaking the law in Rwandan territory, due process should be followed through arrest and prosecution, not Extra-judicial killings.
The mother of someone who is killed can sleep but the mother of the murderer cannot, this is an old adage. Probably its the reason Mr Kagame cannot sleep or feel secure without killing and making death threats.