By: Rpf Gakwerere
According to DMI sources, DMI chief – Brig Gen Vincent Nyakarundi has already briefed criminal Paul Kagame on the likely person to lead the ruling party in Burundi in the May 2020 presidential and parliamentary elections.
According to DMI source, Brig Gen Vincent Nyakarundi has already briefed his criminal boss – Paul Kagame on prospect of Pascal Nyabenda, the current president of Burundi's National Assembly as a person replacing president Peter Nkurunziza, thus a presidential flag-bearer for the ruling party, CNDD – FDD.
This DMI source noted to me, "it's a done deal, Pascal Nyabenda will lead CNDD/FDD into the coming elections. Key to being trusted by President Nkurunziza it's his religion faith, he shares the same faith with the president unlike Evariste who is a catholic. President Nkurunziza is led by religious faith rather than anything else."
Brig Gen Vincent Nyakarundi's briefing to Criminal Paul Kagame was based on new info the terrorist DMI organisation has managed to gather from Burundi.
According to DMI sources, Pascal Nyabenda comes from the region of Bubanza/Cibitoke, an area which have many senior military officers and an area that its children sacrificed during the CNDD/FDD rebellion.
Although majority of political pundits in the region have put their money on Gen Evariste Ndayishimiye, the current Secretary General of CNDD/FDD, criminal Paul Kagame's terrorist organisation – DMI has info that Pascal Nyabenda will replace President Peter Nkurunziza as CNDD/FDD presidential flag-bearer. This DMI source notes that President Peter Nkurunziza is leaning towards Pascal Nyabenda to be his successor.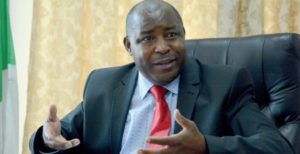 CNDD/FDD general assembly gathering will start today, Thursday, 23 January 20, and end on 26th January 20, when the presidential flag-bearer will be announced.
IS CRIMINAL PAUL KAGAME'S DIRECTORATE OF MILITARY INTELLIGENCE INFO RIGHT? LETS WAIT AND SEE.