Details have emerged how the government of Rwanda was enjoying lucrative business transactions inside Ugandan economy using proxy businessmen for its survival until everything changed for the worst. Yours truly reports.
According to impeccable sources, Rwanda government had been hugely investing in Rwandan businessmen operating in Uganda through giving them subsided loans so as to control the Ugandan economy and influence government policies in all aspects.
Most of these Rwandan traders had been deployed in the Kampala down town businesses centers like in Kikubbo, William Street, industrial areas, and large scale farming in different parts of the country, fuel business, and transport among other areas.
It is reported that such businessmen had become a menace that they would influence government trade decisions and policies because they were the ones in the control of business in the country.
FARMING
Rwanda being one of the poorest countries with few or no mineral resource, poor and infertile soils in hilly areas and poor lazy women who cannot join agriculture at large scale to boost the country's economy, government came up with a viable solution for the problem of food shortage in the country.
It is indicated that the government identified several individuals and bank rolled them to go and practice large farming in the fertile districts of Uganda.
These individuals would be sent to districts like Kiboga, Mubende, Nakasongola, Kibale, Kabale among others to do farming in food crops mainly maize, Irish potatoes, sweet potatoes, beans among others.
Their government had tasked them that after every season, they harvest and sell their produce to other Rwandan businessmen sent by the government to come and buy in large quantities and export to Rwanda.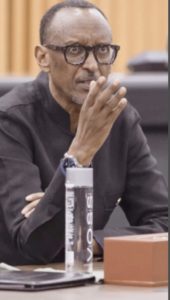 The food would then be sold to the population in Rwanda and some to government for stocking for re-sale in times of food crisis.
It is indicated that government decided to use these individuals to come and do large scale farming in Uganda in order to avoid suspicion and detection by the government of Uganda.
The government of Rwanda would also send casual laborers in large numbers through buses to come and work in these plantations.
This impeccable source narrates that this has since stopped after Kampala got wind of the deal and stop them and also started intercepting Rwandan casual laborers many who would illegally enter the country without paper work.
To tackle the problem of food shortage, Rwanda government also invested in businessmen to come and buy food crops from Ugandan farmers in the neigbouring districts of Kabale, Kisoro and Ntungamo where buyers bought un ready crop gardens like cassava, Irish potatoes, bananas etc.
Rwanda has always faced a problem of food shortage leading to the selling of banana fingers, Irish potatoes in kilograms.
This is attributed to lazy women would do not want to practice farming but only to depend on government for the provision of food. The few who practice farming is at a family level because of lack of farming land while others do tea farming because their soils are unfavorable for food crop farming.
RWANDESE SACCOS IN KIKUUBO, KACITA
Kigali had also picked Kampala City Traders Association (KACITA) as an area of interest to capture and control businesses in Kampala.
It is reported that Rwandese traders and some of their counterparts Ugandan traders of Rwandan origin had formed SACCOs in areas like Kikubo, William street and Industrial area and the government of Rwanda would inject in money for its people to borrow at very lower interest rates and invest in their businesses such that they could be the ones in charge of top businesses in Kampala and other areas like Mbarara among others.
These businessmen were required to repatriate the profits back home which would be taxed by the government. The government would also generate income from loan interests.
It is noted that these individuals became big headed and would want to interfere with government policies in trade and industry in case they felt such policies do not favor them. They are believed to have been funding most of the protests by traders in the down town Kampala and in arcades whenever government would want to enforce some of its new policies.
Furthermore, these people would be used to sneak in illegal money to destabilize the country like funding terrorism, carrying out assassinations of home government targets like critics and kidnapping Rwandan refugees in the country.
The money would be used for facilitating intelligence gathering on key government ministries, security forces using some rogue members of the security organs.
FUEL BUSINESS
Rwanda government had also hugely invested in fuel business in the country so as to control the industry.
The government through proxies had set up very many fuel stations on key transport routes in the country and was fighting hard to buy off key players in the business so as to control fuel business in the country.
However, some of these proxies were also being used to commit crimes like espionage, funding criminality among several other cases.
For example, a top Rwandan fuel vendor along Entebbe road (names and fuel station name withheld) fled the country and abandoned the business after learning that security forces were closing on him. In fact his stations were bought off by one of the multinational Fuel companies and is putting in place its own stations.
A source narrated that Rwandan President decided to close the border because all his transaction avenues and efforts to control Ugandan economy had been dismantled.
"Rwandan economy was trading inside Ugandan economy un noticed, Kagame is not happy because his network had been stopped"
TO BE CONTINUED……………………