By: Seruga Titus
I told you Pilato is just sick, he is making all sorts of demands just to keep his borders closed, in reality he suffers more and it's more secure for Uganda if these borders are closed although there are economic advantages to both sides.
Kagame makes it look like Uganda wants the border more than her security, since the arrest of the notorious group led by General Kayihura, Nickson, Muhangi, Kitaata and others there has been a reduction in the crime rate especially organised crime, since the closure of the rwandan border security has been tremendous with zero high profile assassinations this alone justifies that indeed Rwanda had been destabilising Uganda by way of supporting Crimes, focus was put on crimes as Kagame continued to kidnap people and returning them back for killing. We defeated him then.
Kagame now makes reckless claims and demands after demand to open the border.
First Rwanda claimed the reason for border closure was road construction, late Kagame himself went on tv and said it wasn't construction but for security reasons, yet he doesn't show the real security reason involved in letting people run business.
He also made claims that Rwandans were being arrested in Uganda therefore it was unsafe for them to travel to Kampala hence they have to protect them by closing the border. This too is a lie, Rwandans travel to Uganda freely by plane, RwandaAir still operates daily flights to Entebbe and these are safe. Again why did he have to stop goods from entering Rwanda, were they also unsafe??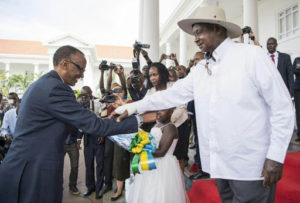 Kagame then claimed over 50 Rwandans were arrested and tortured in Uganda, lies still, asked to present lists for verification nothing came through, but Uganda released those unknown to be under lawful detention because they had been charged in courts of law.
On the other hand Rwanda still holds 50 Ugandans and has no plans of releasing them despite there continued allegations.
Kagame is a lair and so bad at it, he claims Uganda supports terrorist in his country, yet there has not been a single terror attack in Rwanda, the people he calls terrorist are Sula and Prossy Boona who are Ugandan Citizens like me, Kagame aka Pilato now wants Uganda to hand over it's citizens to him for only writing about him. On the contrary Pilato Aka is known to sponsor terrorism, on many case he has been seen with one of the most wanted terrorist, he is find ADF and facilitating training of isis Congo.
Kagame makes a demand no leader in this world can come to terms with, he wants Museveni to arrest and prosecute the following people, Brigadier General Abel Kanduho, Col. Kaka both heads of security agencies, Col CK Assimwe director of joint anti-terrorism and deputy CMI, including a Minister, Brigadier General Fred Kalala and others. This is a joke no country compromises it's security for another.
Kagame also wants Uganda to sign an extradition treaty with Rwanda, this will help him cook up cases against Ugandans of Rwandese origin and refugee applicants in order to have them arrested in Uganda and returned to his place, Kagame wants to return his kidnapping of Ugandans disguised with hunting of criminals.
Fact is that Kagame is under pressure to open borders by the commonwealth, he has been denied funding until then, he also risks organising an event without President Museveni which is more likely going to happen.
For CHOGM to be in Rwanda the border must be open without that Rwanda will not host CHOGM at a very high cost just to use Kagame's own words, let's wait to see if President Museveni can compromise Uganda's Security by firing people that have reformed it in just five years.
Information in intelligence suggest that Kagame's DMI is funding the Censuring of the Ugandan Security Minister for a merely refusing MPs to visit safe houses, where in the world have you heard an MPs visit a safe house, it's a safe house because it's national security and therefore cannot be accessed, who were in those safe houses that time? Rwandans arrested for organising and running operations on Ugandan soil. Since their release mps have not made any attempt to visit, now they have turned tables, Kagame believe removing a Security Minister will probably give way to someone he can manipulate. What if Kaka or Kanduho is made security minister will he now attack Uganda?
You can not run Uganda from Rwanda, you cannot decide who heads our security, those MPs you gave 36b will eat it and still fail to achieve.
#theinformant
Where credibility Matters