By: Rpf Gakwerere
In this world nothing is permanent. How we warned on daily basis Tonton Vital Kamerhe against approaching the region's bloodthirsty dictator. Just being in proximity to criminal Paul Kagame dignifies bad luck. Close relationship with criminal Paul Kagame means trouble and death around you. Social distancing and sanitising yourself is a must when dealing with deranged dictator – criminal Paul Kagame.
The relationship between accidental president Félix Tshisekedi and Tonton Vital Kamerhe is interesting. A relationship that started properly in 2018 in Geneva Switzerland, a relationship that made them "win" the presidency, a relationship that later welcomed Criminal Paul Kagame through Louis Michel, and the dual (Félix and Vital) forgetting how criminal Paul Kagame supported his best friend Moise Katumbi and his alliance during DR Congo presidential election.
In April, we witnessed the dramatic collapse of this dual relationship with the arrest and jailing of Vital Kamerhe. For nearly a month, the once powerful Vital Kamerhe has been incarcerated at notorious Makala prison in Kinshasa, awaiting court hearing which will begin in May 11, 2020.
The relationship of accidental president Félix Tshisekedi, Tonton Vital Kamerhe and criminal Paul Kagame will be a discussion for another day.
Below, a 2019 photo of Tonton Vital Kamerhe giving a gift to Mr death, Potato Enclave's (Rwanda) deranged dictator – criminal Paul Kagame.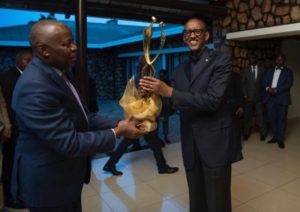 ————————————————————————————————————
N.B: you can follow me at – Robert Patrick Fati Gakwerere page (Facebook page), @RGakwerere (tweeter) or at my blog – rpfgakwerere.org.
However, for those in the enclave – Rwanda, the blog rpfgakwerere.org was blocked by the junta regime, it can't be accessed unless you are using VPN.