By: Robert Patrick Fati Gakwerere
Rwanda's ruthless ruler – criminal Paul Kagame has appointed his daughter to a key position in his office.
Criminal Paul Kagame has officially appointed his ruthless daughter, Co – vice president Ange Kagame, as the Deputy Executive Director, Strategy and Policy Council at the Office of the President. In real (under deep state), ruthless Ange Kagame is the Director of Cabinet in the Office of the President, and Co-Vice president of the enclave (Rwanda).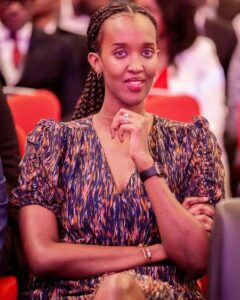 The statement also announced other appointments including new ambassadors to Ethiopia, Morocco, Egypt and Guinea. Key in these appointments is that of former Inspector General of Criminal Paul Kagame's Police force, assassin Dan Munyuza, who has been dumped in Egypt as Rwanda's proposed Ambassador to Egypt.
Ruthless assassin Ange Kagame has been working in the president's office as a senior policy analyst since 2019 and holds political science and international affairs degrees from US universities.
Two of Criminal Paul Kagame's other children also hold positions in government.
His eldest son, Ivan Kagame, was appointed in 2020 to Rwanda Development Board – which is tasked with fast-tracking economic growth through the private sector.
The third-born son, Ian, is an officer of Rwanda Defence Force, and was last year enrolled into the presidential guard.